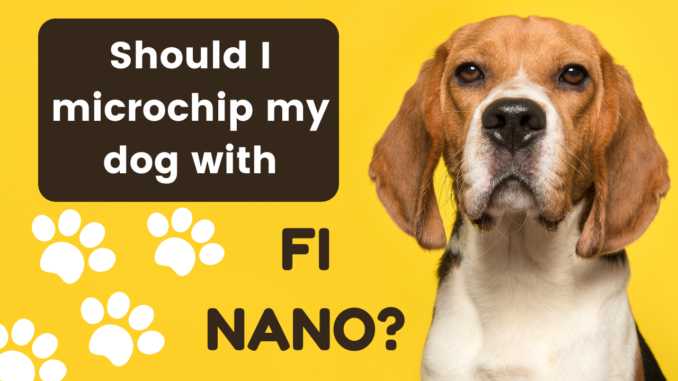 Learn how the Fi Nano microchip compares with all the others in terms of cost, availability, ease of registration, and response when a pet is lost.
Fi was founded in 2017 by CEO Jonathan Bensamoun and CTO Loren Kirkby. Bensamoun was looking for a way to keep his German Shepherd Thor safe while out with a dog walker or loose in the yard. When researching GPS collars, he was frustrated because most have a short battery life and must be recharged frequently, like a mobile phone. This just didn't seem practical, so he and Kirby gathered investors and created the Fi collar, the first of its kind with a battery life of up to three months.
In 2019 the collar was released for sale to great reception. Its sleek design looks good and holds up on the most active dogs. Users reported excellent customer service and quick response to any issues including first generation app glitches and collar flaws. Fi continues to make improvements and updates to both collar and app.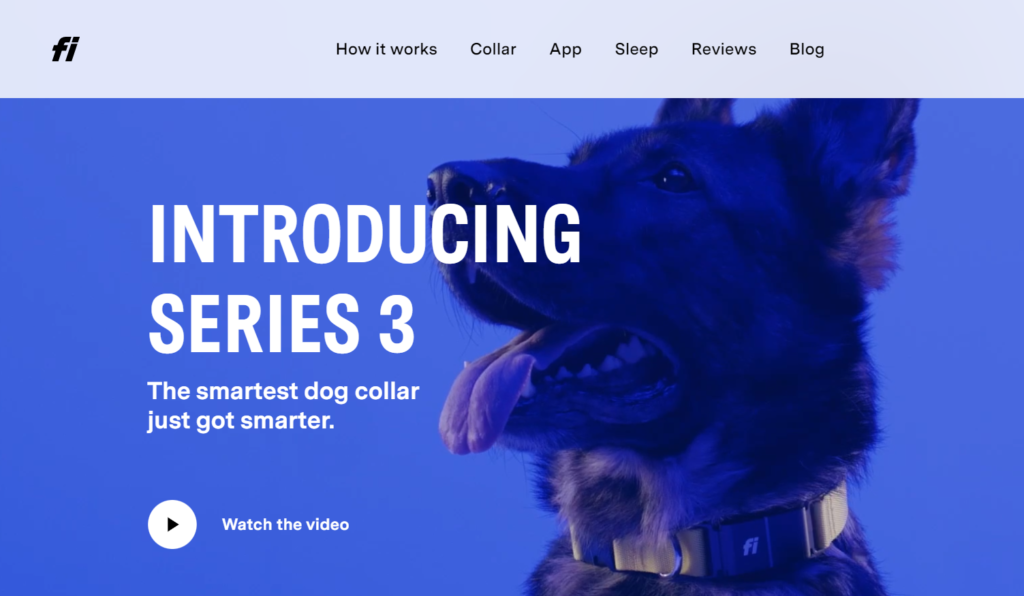 The collars are sold for $149 with an additional charge for yearly subscription. Like mobile phones and home internet, a subscription is required to pay for continuous service. Fi uses the LTE-M cellular network and GPS to track the dog's location. As of now, the subscription starts at a little over $3 a week (there is only one kind of subscription but prepayment reduces the total cost).
The collar also connects to the user's home wifi and the user's mobile phone via Bluetooth. Using Google maps, the dog owner can set a perimeter around their home or mobile location like a friend's home or campground, and they will be pinged if the dog goes outside of this boundary. If the dog is lost, the owner can activate Lost Dog mode which will fully utilize the GPS capabilities for a quick reunion. This mode will quickly drain the battery, but ideally should not be needed for a long period of time.
In 2020 Fi added microchips to its product line. A logical pairing with the GPS collar, the Fi Nano chip provides permanent, lifetime identification for any dog (or other pet, although Fi's products are geared for use with dogs). Priced as low as $3 per chip including registration, the Fi Nano seems like a great deal, but how is it different from the dozens of other microchips available on the market? Is it the best microchip for dogs? Let's take a look.
Cost
At $3-$5 each, the Fi Nano is one of the lowest cost microchips available. Most other name brand microchips sell for $15-$35 each, with or without registration. Price may not be a huge factor if you have one or two pets, but if you have a larger number or if you are a breeder or rescuer, it can add up quickly.
Availability
The Fi Nano microchip is easy for anyone to purchase. They can be found on Amazon as a box of 20 or just one chip. U.S. law does not consider microchipping to be a medical procedure, so anyone can do it. Since veterinarians will charge anywhere from $50-$100 to implant a chip, it can be a big time and money saver to do it yourself. However, the procedure must be done properly to be humane and effective. If you decide to go DIY, seek training and advice from someone experienced in chip implantation.
Shelters and Rescues
If you are a vet, rescue, or breeder, you can request a free sample on their website. I was able to obtain a free sample box of 20 to use for this article and accompanying video with the stipulation that I pass it along to a rescue group after completion. Fi offers a number of perks for rescues including partnership for microchip clinics, several ways to earn more free microchips, and free GPS collars with discounted subscription.
Registration
Registering Fi Nano chips is quick and easy. Simply scan the QR code on the little yellow card that comes with each chip and you will be taken to a web page that walks you through the steps. I registered one of my chips to an imaginary dog called "Firsty" to test this process and it took five minutes.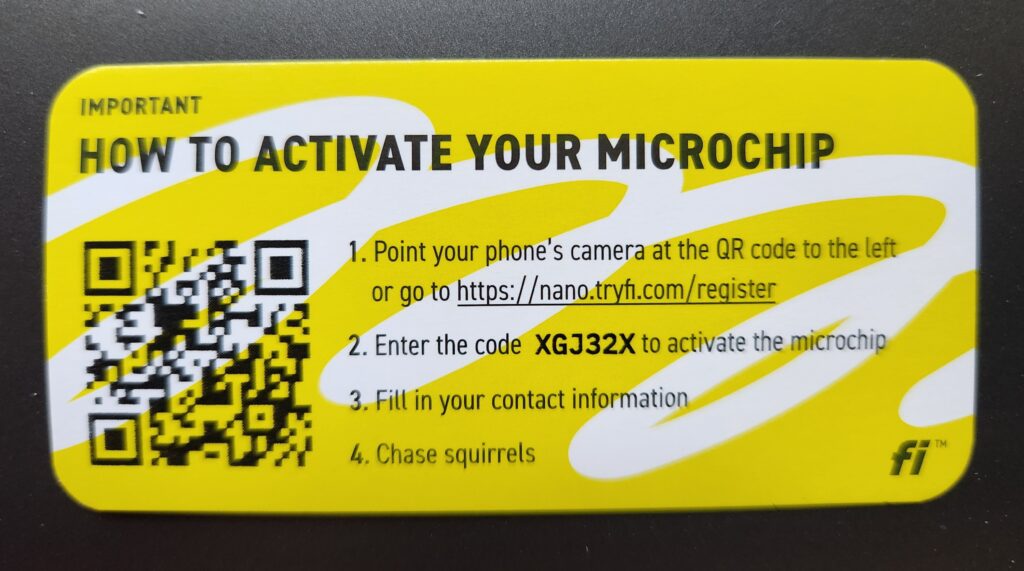 One of the complaints that some Fi users have is the very basic information collected for registration. Some other registries allow the user to upload photos, veterinary records, and all sorts of other information. This may seem helpful, but in reality when your pet is lost all the finder needs is your contact info. None of that other stuff will be visible to the finder or shelter holding your pet.
Note: while Fi chips can be used on any pet, the company is focused on dogs, so the registry is designed in that way. The only options for pet type are dog or "not a dog."
Pet Microchip Lookup
Pet Microchip Lookup is a website created and maintained by the American Animal Hospital Association. It is a highly valuable tool that acts as a clearinghouse between the dozens of microchip registries in the U.S. and Canada. When choosing a microchip registry, it is imperative to determine if they participate in Pet Microchip Lookup. If they do not, it is much more difficult for a finder — even an animal shelter — to obtain the registration information and contact the lost pet's owner. Fi does participate and so their chip numbers are searchable in this database.
Finding a lost pet with a Fi chip
Fi's registry does not have a live call center, which is typical of a free service. Lost pet recovery is online only. However, they do provide something not done by most other registries: they display registration information immediately upon searching. With this information the finder can contact the owner right away. Called "Reunite Without the Middleman," this is an improvement over some other registries that won't even give out owner info to animal shelters.
They also display the implanting vet, shelter, breeder, or rescue's information, so there are multiple points of contact. This easy access to owner information can mean the difference between an immediate reunion and a delay of hours or even days.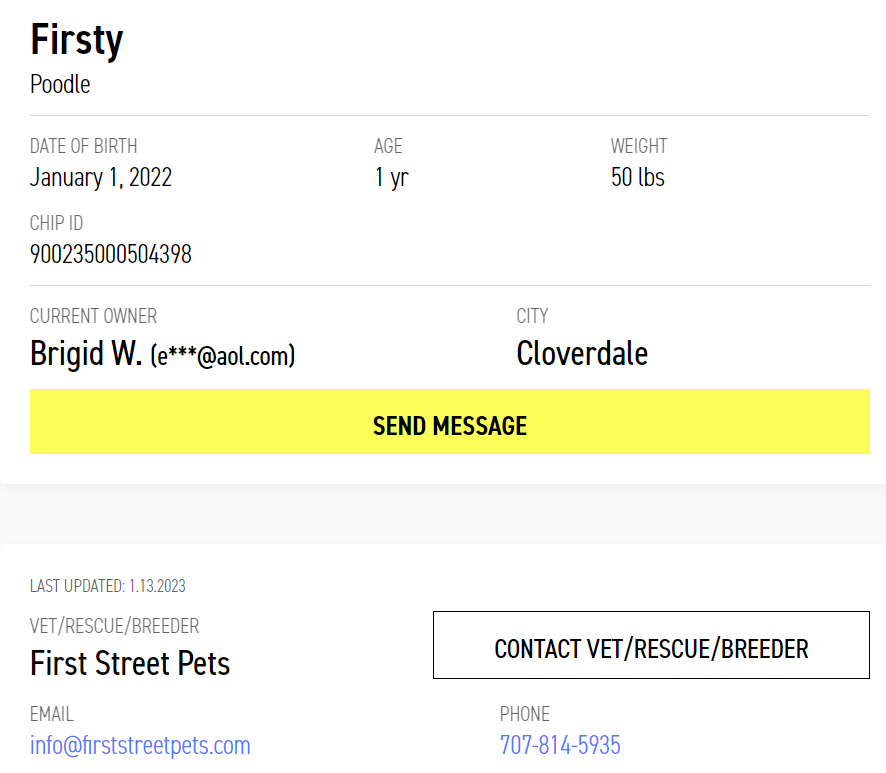 To protect privacy, the owner's last name, phone number, and full email address are not shown. The finder has the option of sending a message securely through the website and/or calling the implanting vet/rescue/breeder to report the pet found. I reported "Firsty" as found to test this process. In a few minutes I received an email alert, but unfortunately it went to my spam folder. For this reason it is critical to add Fi as a safe sender in your email provider.
App
In the 2020's folks manage most of their accounts through mobile apps, so this is a consideration. While Fi does have an app for the GPS collar, it is not integrated with the microchip registry. This is an obvious flaw that I hope will be remedied in the near future. I reached out to Fi with feedback on this and some other ideas that I hope they will implement for a better overall lost dog recovery service.
Overall, the Fi Nano chip is one of the most affordable to buy. Registration is quick and free. The company provides good customer service and has many advantages for rescues and other higher-volume users. While other registries have better options for recovery like a live call center, there is usually a cost for this service.