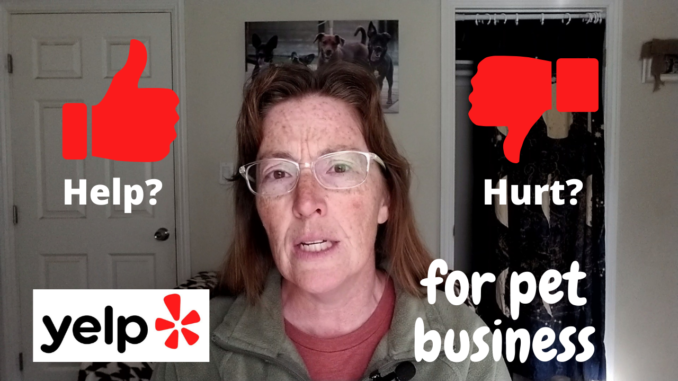 Will Yelp! reviews affect your pet business? Is it worth it to run paid ads on Yelp? I'll talk about my experience with Yelp! and share clips from other business owners on YouTube.
As a new entrepreneur or established owner, you may be looking for ways to grow your business. Whether you provide dog boarding in your home, pet sitting, dog walking, or any other kind of pet service, you will want to build up your client base to a level that keeps you busy and provides you with adequate income. One of best the ways to accomplish this is to get referrals from existing clients.
Referrals, references, and reviews
Back in the days before the internet we used direct references from clients via phone. Certain clients would agree to take calls from potential new clients to answer any questions and talk about their good experiences with the company. It did get the message across that the business is reliable and that folks should hire us, but it was clunky. It was time consuming for both myself and for the person taking the calls. When I think about this with today's standards, it seems weird to give out trusted clients' phone numbers to people I don't even know.
The internet provides business owners with a much more streamlined approach to marketing and onboarding clients. One of the ways to attract new clients via reference is with a platform that provides reviews for you. One of the most popular is Yelp! I recently watched Billion Dollar Bully on Amazon Prime Video and found it very interesting. It is biased not in favor of Yelp! as you can tell from the title, so keep that in mind, but I would encourage you to give it a watch if this is a platform you are considering using for your business. My experiences were not exactly the same as those of the business owners interviewed in the program, but they were also negative.
How Yelp! works
One of the weird things about Yelp! — and possibly other review platforms, stay tuned for future articles — is that anyone can create an account for you. They don't have to be a representative of your business or even a verified client or customer. Once this account is created, you the business owner cannot remove it. Yelp! has total control of your listing. All you can do is update the info like address and phone number, and to do so you must "claim" the listing and agree to Yelp!'s terms of service. From there anyone can post reviews which will appear publicly and come up in search engine results for potential clients. You cannot remove reviews, but you can at least respond to them.
Review filtering
Another weird thing about Yelp! is their process for filtering reviews. As a blogger and YouTuber, I understand filtering and appreciate the efforts to keep spammy and irrelevant comments out of sight on my pages. It's an AI and not perfect, but it does help. Sometimes YouTube filters legitimate comments, but I have the option of approving them if I so choose. Not so on Yelp!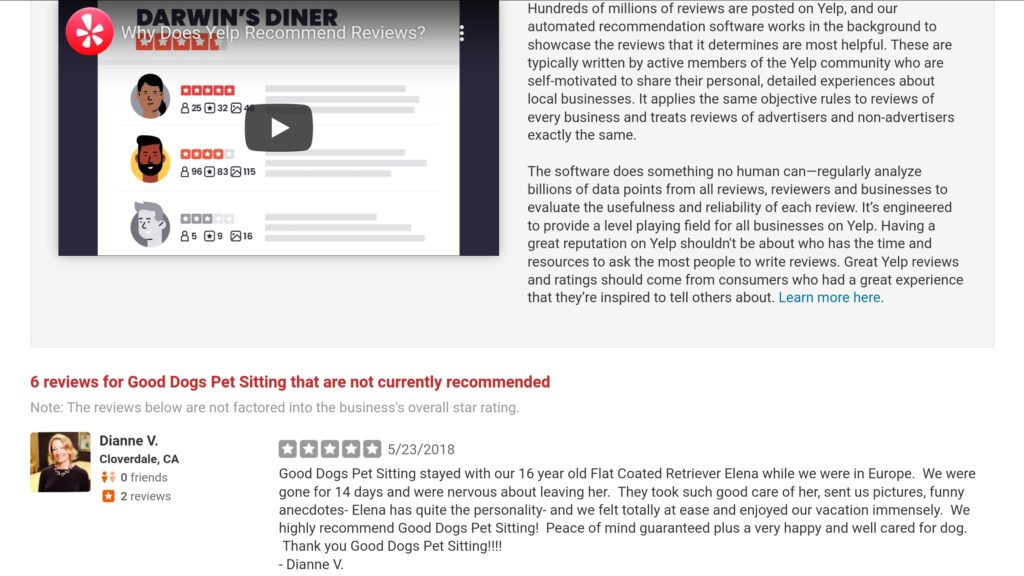 Yelp!'s AI — or live person, who knows — filters reviews in a seemingly random way. They claim that this process is an attempt to keep reviews honest and organic, and that the disapproved reviews must be spam or fake, written by family and friends of the business owner. A quick read of "not recommended" reviews on any business profile, like mine pictured here, will blow that theory right out of the water. One of the ways to "prove" that reviews are not honest is how many reviews that user has posted. I would suggest instead that some folks are too busy to post reviews about every interaction they have with a business, and only take the time to give kudos when they have an exceptional experience. This filtering is a common complaint on this platform, as it prevents the business owner from promoting their business and wastes the time of the person giving an honest review.
Pay to play
Like many online platforms, a certain level of service is available for free, but to go beyond that payment is required. Yelp! offers a dizzying (and costly) array of paid services to "boost" your listing and increase impressions (how many times it is seen by potential clients/customers). Once you claim your business account, Yelp! will start calling you, and calling, and calling, as I discovered. If you watch Billion Dollar Bully you will see the crazy amounts of money some business owners spent in good faith thinking this would bring success and profit, but it only brought trouble.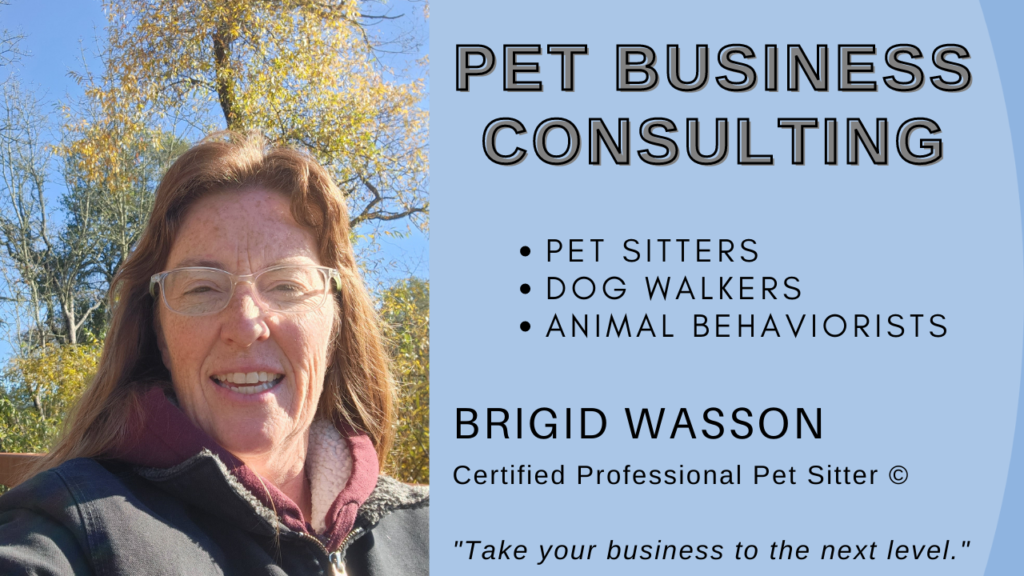 My experience with Yelp!
I claimed my account for Good Dogs Pet Sitting in 2014. I had been a professional pet sitter since 1994, but I was starting in a new area and wanted to build my client base. I decided to try out this new platform and see if it would help to grow my business. I had a few clients from referrals and asked them to leave reviews for me on the site. It's against Yelp!'s terms of service to specifically ask people to give positive reviews, or to pay or offer free services or products in exchange for good reviews. Makes sense, as the reviews should be organic.
I got a bunch of 5-star reviews from real clients past and present including details about their pets and experiences with the service. I was pretty happy about this and looked forward to increased business and revenue. Then the calls started.
High pressure sales
I'm very busy and drive a lot so I rarely answer the phone unless it's someone I know and have time to talk to. I also use voicemail to text so I don't have to listen to the messages, I can just read them and see if they are spam or a legitimate call. The daily calls from Yelp! were annoying but at some point I decided to check in and see what they had to offer with the paid advertising. It was very pushy high-pressure sales. I'm not so easily influenced to part with my money, so I agreed to a very inexpensive package. It was an enhanced listing which included the ability to organize my own pictures and have a little bit more control over the profile. As I recall it was under $100 a month.
Tire kickers
I was initially pleased with my enhanced listing. The first thing I noticed was that the link popped up at the top of relevant searches like "pet sitter near me." Anyone searching for a sitter would see that link first, click on it, and could read my reviews before contacting me to inquire about service. I got a steady stream of calls and emails as well as messages sent through the platform. For a while I thought the listing was working … till I realized these potential clients weren't converting. They were asking questions about services and prices — which are all plainly listed on my website — then never booking. I don't have time for tire kickers, and even today refer folks to my website when they send inquiry emails or social media messages. I don't need to spend 10 minutes on the phone with someone for the call to inevitably end with, "Let me talk to my husband/wife," then never hear from them again.
ROI
Paid advertising is only worth it if the return on investment is significant. If I can pick up even one or two regular clients who will continue service for months or years, the ads are paid for. That wasn't the case with Yelp! so I cancelled the enhanced listing after about a year. This was a while ago so I can't remember if I was able to do it online or if I had to call. A couple things happened after that.
Aftermath of cancelling paid ads
One, the Yelp! sales team started calling me. They called every day, multiple times a day, for YEARS. Good thing I don't answer the phone. I feel for those business owners or representatives who must answer the phone every time, like in a doctor's office or restaurant. I can understand how the constant high pressure sales pitches can wear a person down. At some point they agree to an advertising package just to stop the calls.
I watched a number of videos on YouTube, two which I feature in my video above, where business owners describe this process and how they were billed for amounts much higher than what they thought they had agreed to. They may have said or clicked on something during the sales call authorizing such charges without being fully aware. It's not like the old days where you sat down with a sales rep and signed a printed contract where terms and conditions were clearly written.
Two, my listing stopped showing up in search results. This should be organic according to the laws of SEO, but it plainly wasn't. Once I stopped paying, the link to my Yelp! page virtually disappeared. They could be found, but you'd have to dig deep into the results or specifically search "Good Dogs Pet Sitting Yelp reviews." I haven't had a referral from Yelp! in years; rather, I worked on improving the SEO of my website so it ranks well in searches.
Should you use the Yelp! platform?
Overall, I'm not sure that consumers are as reliant on platforms like Yelp! as they were years ago when they were new and exciting. Looking at my page today, I can see that the listings are even more confusing and cluttered than before. You have to scroll down quite a ways to see the reviews. Ads for competitor's businesses are placed first, so a user might start on your page and click onto another without even realizing it.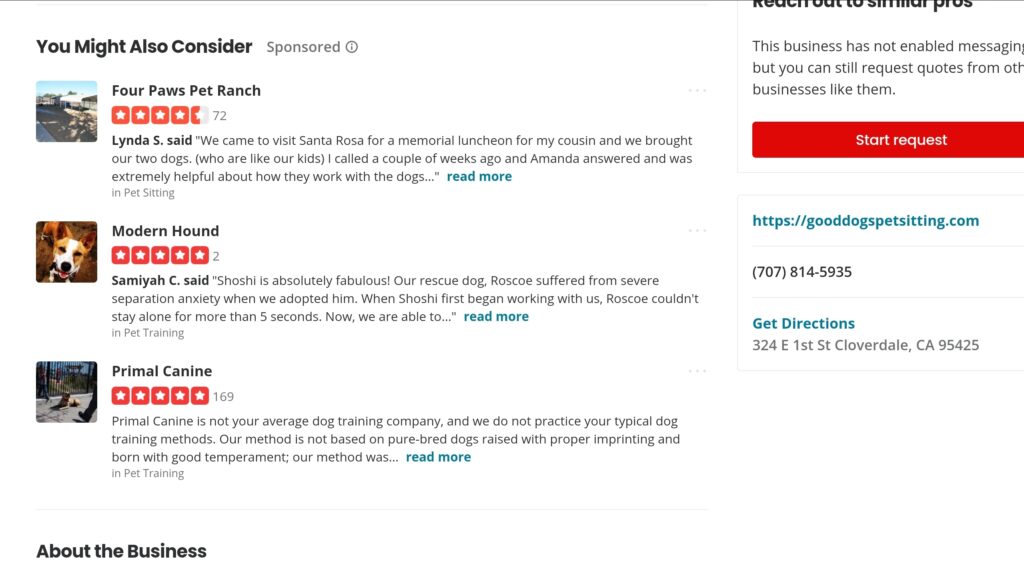 Reviews are helpful, but you can collect them yourself and post them on your own website and social media. I don't recommend doing any paid ads on these kinds of platforms, as the ROI (return on investment) is poor, but good reviews on a free listing may be to your benefit. These days I don't ask clients to post reviews on Yelp! What I see instead is that they recommend my business on social media like Facebook and Nextdoor. This is free, voluntary on the part of the client, and effective. Folks seem to like a direct recommendation from a neighbor.
If you have a Yelp! page, I would advise checking it from time to time and responding to any negative reviews. I only got one — from an individual I never even worked for — and I responded to it publicly. I figure anyone who reads both review and response can figure out what actually happened. If you don't have a page, I wouldn't recommend setting one up as it may prove to be more trouble than it's worth.
I wish you success in your pet business!