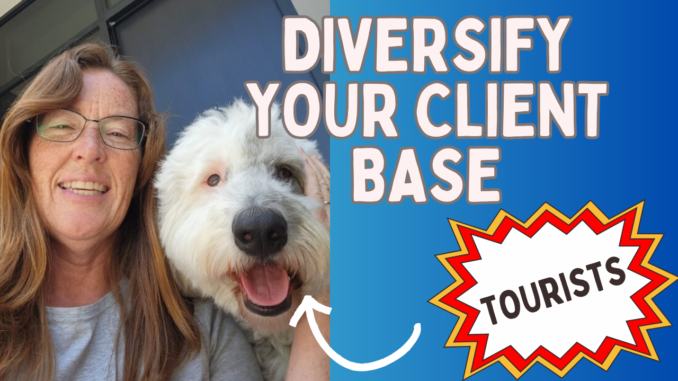 Is your pet sitting and dog walking business growing too slowly? Are you having difficulty picking up new clients in your service area? It's time to diversify.
As discussed in Recession proof your pet business, diversification is a way to engage a broader group of potential clients. This is key to growing a business to its potential.
During the dot-com boom a good chunk of my clients were working in the Silicon Valley tech industry. They were making big bucks in a number of start-up companies which enabled them to live in big houses in nice neighborhoods, drive new expensive cars, and hire dog walkers five days a week. We were all in clover till the inevitable bust happened, many start-ups shut down, and those clients had to downsize. While my company's revenue took a dive at that time, it didn't go away altogether thanks to my clients from different walks of life.
When marketing to clients the question to ask is, 'What problem do they have, and how can my company solve it?" A vacationer wants to enjoy peace of mind while they travel. A 9-5er wants to focus on work knowing their dog is taken out and walked while they are away from home. These are two common types of pet sitting clients, but what about tourists?
If you live in a tourist area you won't want to miss out on this potentially lucrative client base. With the right approach and management you can make good profit and provide an important service for pet owners visiting your service area.
WHY TOURISTS?
There are many reasons to market your services to tourists.
1) You can solve their problem. Many people enjoy traveling with their pets, mostly dogs and occasionally cats. There will be times that they won't be able to have their pets with them; for example, a situation where pets aren't allowed like a restaurant or winery, or a situation that isn't safe like boating or rock climbing. Some lodgings don't allow pets to be unattended in the room, or don't allow pets at all. You'd be surprised how often travelers show up to a hotel or BNB with their dog only to be told they aren't allowed inside. One would think they would confirm that the lodging is pet friendly before traveling!
For those tourists who suddenly need a dog sitter, your service can be a lifesaver. They will most likely search on their mobile phone for "Dog sitter near me" or something like that and if your SEO is in order your listing should come right up. Some sitters don't favor last-minute requests, but in my opinion it's worth the trouble to help people and to earn premium income. If you offer in-home boarding and are available that day, you can pick up a client just like that.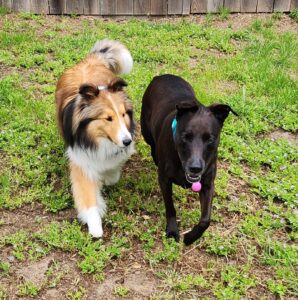 For those who plan ahead, once again SEO is your friend. I've booked service for folks coming from all over the country because they found me on Google. I have a professional looking website and a Google business listing with 5-star reviews. A quick phone call with these travelers can confirm just what they need, whether boarding or visits to their lodging while they are out. Now they can enjoy their holiday knowing their pet is in good hands.
2) Tourists are enjoying leisure time. They are in a mode to spend money on hotels, food, and entertainment. To put it plainly, they aren't penny pinchers like local residents can be. You can charge premium prices for pet care services and they won't bat an eyelash. I have yet to have a tourist question my prices. In fact, they usually tip.
Your service can help these folks have a great experience in your town. Whether they are camping, bicycling, or visiting museums, knowing their pets are safe and cared for provides peace of mind. This benefits everyone. You earn income, the visitors have a great time, and the business owners of the lodging, campground, winery, etc. don't have to worry about their guests' pets. In addition, these business owners may recommend your service in future to other guests with pets.
3) One-offs keep the business interesting. This is a matter of opinion as some sitters like a predictable schedule and won't do one-offs. They don't feel it's worth the effort to onboard clients just for one day or a few days. I would challenge those sitters to take a look at tourist- central businesses like jet ski rentals, walking tours, or zip lining. All of these companies must onboard customers with service agreements, liability releases, and payment information. Smart business owners make this process quick, either collecting information online ahead of time or with a hard copy contract for the customer to sign. Most customers they will only serve once, but it's worth the effort as that is their business model.
As discussed in #2, tourists are not adverse to spending money. As with all services, you should charge an appropriate price to cover costs and make a profit. If serving tourists takes more time and effort, then charge more. Make it worth your (and your staff's) time.
Some sitters like change and prefer not to do daily dog walks. They like a boom and bust schedule with busy days and slow days. If that's you, then serving tourists may be right up your alley. You get to meet many different people and dogs. If the owners pass through your area in future they will call you again. If the dog turns out to be a handful at least you don't have to walk him every week!
HOW TO MARKET TO TOURISTS
There are a number of ways to market to tourists anywhere in the world. It may surprise you to know that these folks in turn can help you gain more local clients.
1) SEO
Understanding and implementing SEO is key to success in any business. Even in my small town where I believe I know everyone, the majority of my business comes from Google! In fact, while I get a number of inquiries from referrals, they tend to be tire kickers and don't often convert.
Do a search for "pet sitter near me." What comes up? More then likely the first results will be Rover or Wag!. Don't worry about that. These corporations have million dollar advertising budgets and those listings are paid ads. Scroll down to see organic results. Does your website come up in the search results? How does it look? While the appearance of search results will vary based on the device (desktop, mobile, etc.) you do have some control over the content. If your website is way down on the list or doesn't look good, it's time to make some improvements.
In addition to general improvements you can add content to your website specifically aimed at tourists. Here I use language aimed at pet-owning travelers. Folks searching for services in my area will read this, as will the search engine bots. If the potential clients can book online, all the better. In the 2020's people are used to finding and booking services from their phone. If they have to call, email, or otherwise spend a lot of time trying to book, they will likely go elsewhere.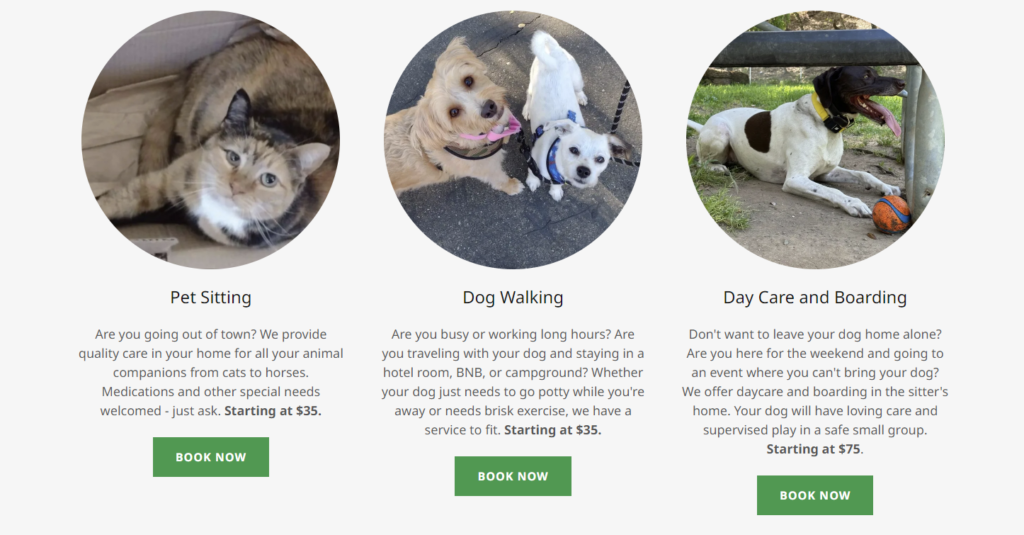 2) Hotels
Hotels, inns, resorts, etc. are in the business of serving tourists and travelers of all kinds. You want to make these business owners and managers aware of your services. Don't assume they already are because you operate in the same city or have ads online or in the paper. You will need to take steps to introduce yourself and to develop relationships that will lead to referrals.
While "pounding the pavement" in person introductions are good, I personally don't want to disturb people unexpectedly while they are working. Hotel staff are very busy and if you simply stop by to drop off business cards they may quickly be tossed in a drawer … or in the trash. Instead, I drafted a letter giving a brief description of my services which I mailed along with a few business cards to local hotels. I addressed the letters to the attention of the concierge, as this is the staff person coordinating services for guests. In the letter I invited the concierge to contact me with any questions or to arrange an in-person meeting at their convenience. I WILL UPDATE THIS ARTICLE WITH THE RESULTS OF THIS LETTER CAMPAIGN.
Once you are known by hotels, you may be contacted by the individual guests or by the concierge. How you manage this in your scheduling and billing system is up to you. I recently did a walk for a dog at a resort. I didn't meet the owners; rather, the concierge arranged everything and got me a key fob for entry to the unit. She advised the owners of price and they left me cash to pick up. I communicated with the concierge and provided great service for the dog's family, so I hope this will lead to more work at that particular location.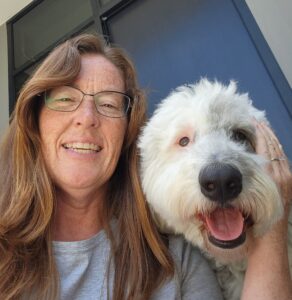 3) Airbnb
Many tourists choose an Airbnb over a hotel because they can bring their pets and vacation in a more home-like environment. I have received many requests for help from Airbnb guests because they needed someone to check on their dog while they were out or the dog needed a place to stay because they were not allowed to be unattended in the lodging. These guests may plan ahead before their visit or they may look for a service at the last minute. Whether or not you can accommodate such requests is up to you, your business model, and how motivated you are to earn income.
I recently did a wedding job where I picked up and returned the bride's dog to a nearby Airbnb. I noticed while I was there that the host had a binder of local services including restaurants, wineries, and other tourist attractions. The lightbulb came on in my head when I pictured a pet care listing in such binders, so I decided to reach out to as many hosts as I could find in my area.
Here's the tricky part. Because Airbnb has a monopoly on the market for this type of lodging, most if not all hosts offer their accommodations through their website. The website is carefully designed to require guests to book through the platform and only through the platform. For example, when contacting an Airbnb host, you cannot type a phone number or email into the contact form. The AI will detect it and decline to send the message. There is no contact information for hosts other than the contact form and booking request module.
I tried looking up the names of the lodgings — many of them have catchy names like Oak Cottage or Skyview Lodge — to see if they have individual websites, and they don't. What I ended up doing was reaching out to the hosts through the contact form. I briefly introduced myself and invited them to respond for more information. What I didn't realize is that sending a message initiates a booking request which the host must accept or decline. While I got a number of favorable replies saying they would keep me in mind for the needs of their guests, I also received several complaints from hosts saying the platform is not appropriate for marketing. Because sending a message initiates a booking request, the host must accept or decline it. Declining requests wastes their time and lowers their ranking in the system, potentially causing them to lose business. For this reason I DO NOT recommend doing this. I responded to the complainers and apologized for causing problems for them, and put my thinking cap back on. I will update this article as soon as I figure out a better way to market to Airbnb hosts!
I hope that you will consider marketing to tourists and that it helps your business grow. Feel free to email me with any questions or ideas at info@firststreetpets.com Stay tuned for more in the "Diversify your pet care client base" series.