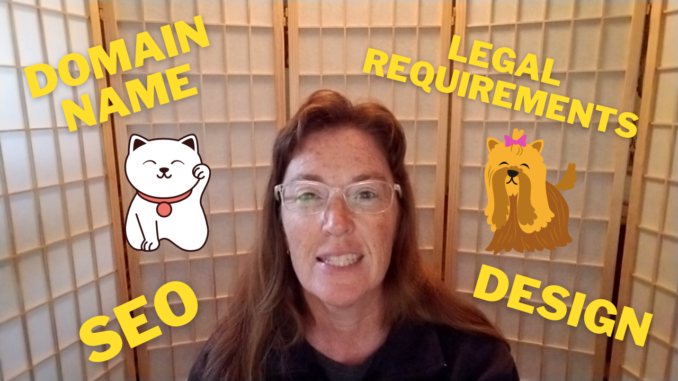 Ensure the success of your pet business with a well designed, affordable website.
Who needs a website?
Well, everyone since 1995! Surprisingly I still see some businesses without one, or with an outdated one. In today's world everyone finds what they need via internet search, whether services or products. If you want your business to be successful you need a solid web presence
How much website do you need?
That depends on the type of business and your budget. A small, local service business like pet sitting or grooming may need only one page with basic information. A more complex business may need more pages as the viewer searches for more information before making a buying decision. A product based business will need a shopping cart element with a payment platform like PayPal or an app specific to your type of business.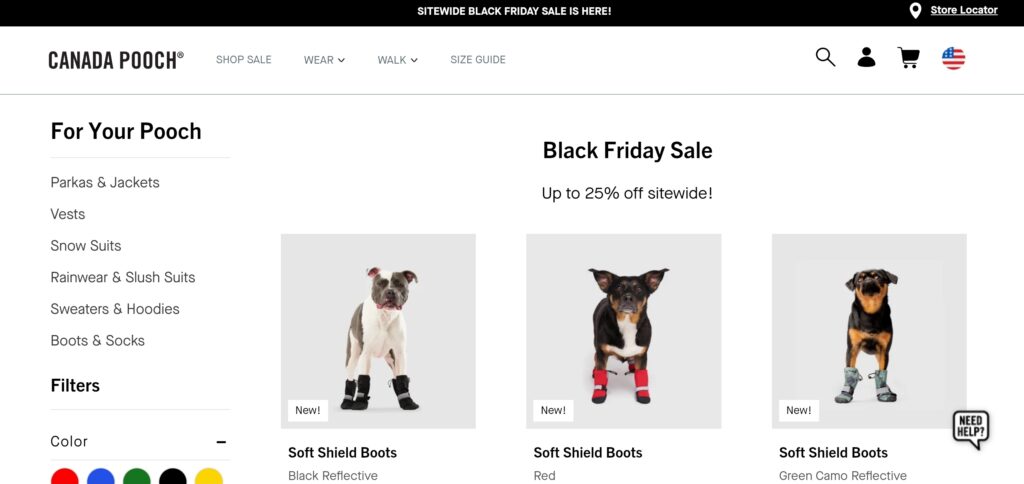 Back in the early days of the internet — think Geocities and animated GIFs — a web page was a "page," but today viewers are used to the endless scroll style featured on social media, Amazon, Etsy, and most other popular sites. You'll want to take advantage of this trend by designing your site in a similar way so that the viewer can scroll rather than having to click on other pages which may take time to load.
Pet care professionals, I am now offering personalized consulting and coaching for your business! Email info@firststreetpets.com for info.
How to make a website?
You have two basic options when designing a website for your pet business. One is to:
Hire a professional web designer
With this option they do all the work and you don't have to have any knowledge of the technical aspects of design. You will work with them to describe what you need and they will create it for you. If they are a good company, you will end up with a very professional looking, highly functional website that meets your needs. On the downside, it can be challenging to get another person to see and create what you envision.
Cost for these services can be quite high, from $3-$5k for a small business website without a lot of bells and whistles, to $15k or more for a more complex site with many pages, shopping cart, etc. I once attempted to engage the services of a design firm for Mission Reunite. The representative informed me that they could do a basic package for "under $30k." We didnt even have that much money in the bank!
Most designers work remotely, unless you have a company with an office in your local area. Since cost is high and the potential for problems great, it is best to get referrals from others. Ask friends and associates who they worked with. Search websites in your trade, pick ones you like, and ask who did the design.

Beware of really cheap online services! I have had bad experiences with designers using clip art and images stolen from the internet. I won't name the business where these "designers" primarily come from but you'll figure it out when you see a platform offering websites for $25 and logos for $5. If you can't afford professional web design services, your other option is:
Do It Yourself (DIY)
There are many tools available today that enable you to make your own site at minimal cost. Some of these include GoDaddy, Wix, and Bluehost. These tools use what is called WYSIWYG, What You See Is What You Get, design platforms. There is a bit of a learning curve but it's not that difficult. You can view some of the basic steps in the video above.

Cost is very reasonabe because you are doing the work yourself. All you pay for is the services from these companies like domain registration, web hosting, and email. For the sites I manage like Mission Reunite and Good Dogs Pet Sitting it costs less than $300 a year.
How to design your website
Make a list
How to start? Make a list! It's just like in the old days when you wrote down your ideas on a notepad, sheet of binder paper, or whatever scratch paper you had at hand. Make a list of what you want on your site: services or products, prices, information about you or the nature of your business, anything a potential customer or client needs to know. You can use an actual notepad or a virtual one. This step will help you flesh out the content you want to see on your website.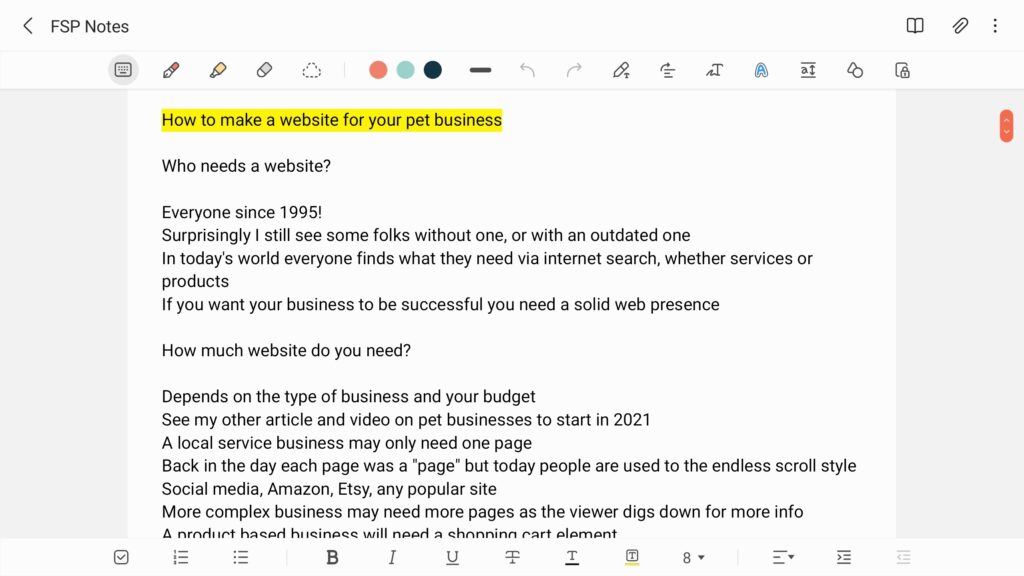 Gather images
The internet is a visual media. Users want to see pictures along with text as they search for the products and services they need. Think of the last time you ate at a restaurant. Did you order based on the text or on the photos of the dishes?
Look at your list and start pulling together images that will pair well with the different sections of your site. Your own photos work best if they are good quality. Most phones today can take nice, high-resolution photos that will work well on a website.
Stock photos are okay as long as they aren't too cliche or overused. While they may look more professional, stock photos have a "look" and can give your site an impersonal feel if you rely on them too much. Your own photos, while likely not as polished, look more real and give a sincere feel to the site. Before selecting stock photos, be sure to browse other sites in your industry to see what they are using. In my research I have seen a number of websites use the same backgrounds, clip art, and stock photos, so try not to do that!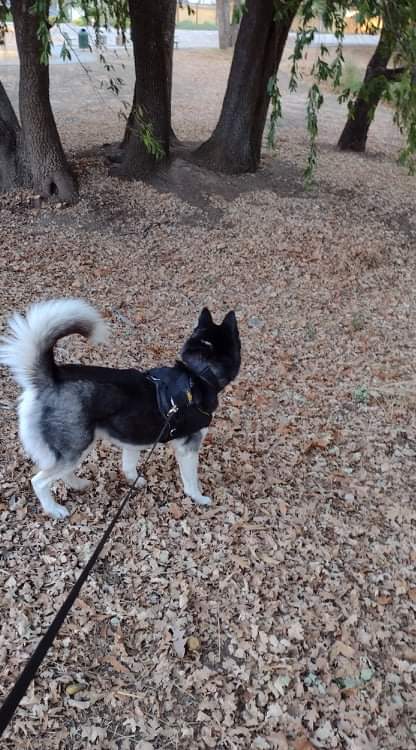 Design
Let's get to the fun part, design! Here you can be as creative as you like while staying within the bounds of what is typical for your type of business. Getting started can be the hardest part, so I suggest searching other websites in your niche to see what you like or don't like. Not enough information? Too much information? Confusing layout? Too busy? Make notes and save the URLs of sites you like for reference.
Next, go into your designer app and pick a template suitable for your business. Local pet care or sale of pet gift items or artwork would match a cute theme with pawprints. A bigger business site like legal aid for pet owners would call for a cleaner, more conservative theme. There will be dozens or even hundreds of possibilities, so don't sweat getting it perfect at first. Just pick one that seems suitable and start designing, as you can always change it later with minimal impact to the site.
Choose a domain name (URL)
There is a science and an art to choosing a domain name. You'll want to pick something not too long that describes your business and is easy to remember. Often a user will be clicking a link, but you also want to be able to say it and have it easily understood. That's why I picked names like Good Dogs Pet Sitting and First Street Pets for my businesses.

If it's a local business include your area if possible, as this will help you better rank in local searches and will tell potential customers or clients where you are. Some examples are SantaRosaPetBoutique.com and SanJoseDogBoarding.com.
Your domain name will be part of your email for your business. It will look something like this: info@sanjosedogboarding.com or yourname@santarosapetboutique.com. A unique email using your domain name will cost extra but is worth it. This looks way more professional than using an email from Gmail or AOL (guilty!), plus it keeps business correspondence separate from personal.
Once you've chosen a domain name, you will need to see if it is available and register it in your name. You can do this through whichever platform you are using to create your website. Go to the domain name section and you should see a window like this inviting you to see if the name of your choice is available.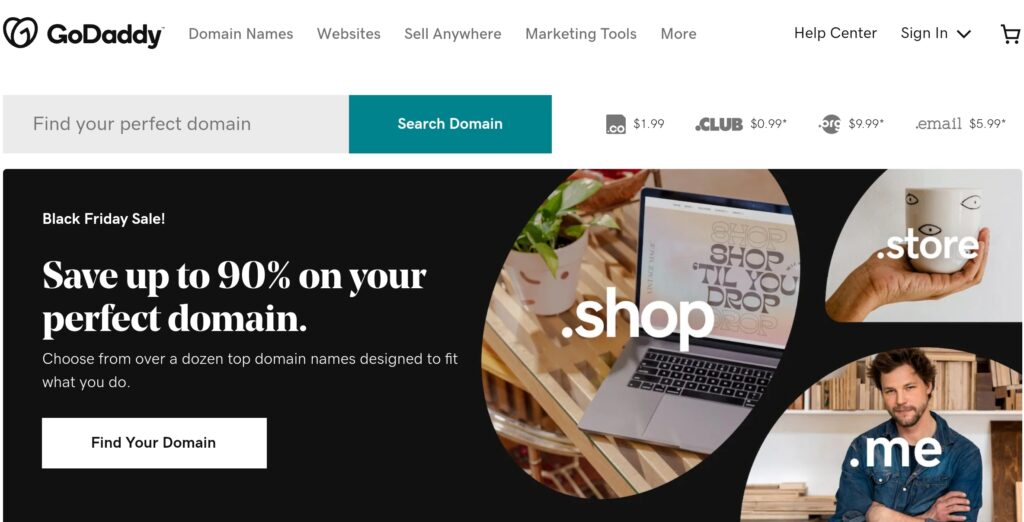 If it isn't available. you will likely be shown a list of alternates which may work for you. If it is available, simply follow the on-screen instructions to register it and hurray, it's yours! Well, mostly. Registering a domain name is sort of like renting an apartment. If you don't pay the recurring fees, you will be evicted and your "apartment" rented to someone else. You don't really "own" a domain name. To ensure this doesn't happen, set your account to auto-pay so any fees for domain name, email, and website will always be paid on time.
Legal requirements
There are some legal requirements for websites which keep users safe and improve your ranking in searches. Google favors websites with valid content that meet current requirements, so these will be recommended over others. There are two important requirements for the 2020's which are SSL and the Cookie Notice.
SSL stands for Secure Sockets Layer, also called Transport Layer Security. Whew, what a mouthful! Basically, this creates an encripted link between your website and the user's browser. This encription keeps user information private and prevents criminals from hacking or cloning your website. SSL is required by US law since 2017, so don't neglect this important step in creating your website. To set up SSL, follow the link in your designer app for "security certificate."
Cookies track the user's actions while on your website. This is what Google uses to give you the analytics reports which shows how well you are doing in attracting the right kinds of customers or clients. Users have a right to privacy and to be made aware of their options regarding tracking. Because of this, the cookie notice is required by law in the EU and is a best practice internationally. Generally the cookie notice will appear as a pop-up on the user's first visit to your website. You can set up this feature in your designer by clicking on "cookie notice." There will likely be some standard text in the notice which you can customize if you wish.
Search analysis
How do customers or clients find you on the internet? What search phrases are they using, and how can you incorporate those phrases into your website to maximize success?
Back in the day it was all about keywords. Google is much more sophisticated now, with AI that tracks entire phrases and matches them to the best results for the user. The best way to attract those users is to incorporate such phrases into the text of your website. You can discover those phrases by performing a search analysis. To do this, look up your kind of business; for example, "dog boarding near me," "natural pet food," or "dog training," and see what comes up in the results. Scroll down to the section "People also searched" and there you will find the most common search phrases. This is what you will want to include in your website, especially on the home page.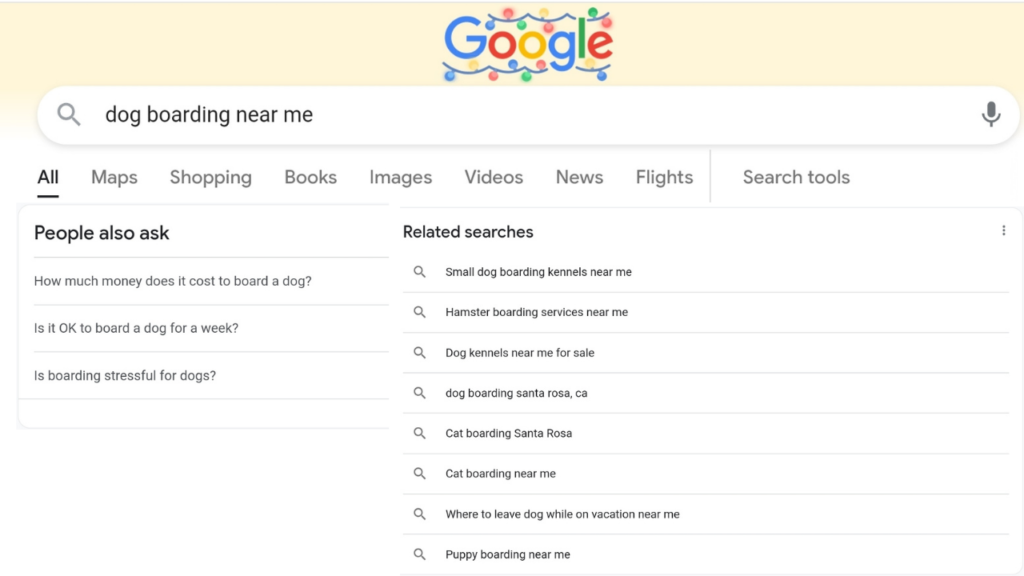 I will do a deeper dive into SEO (search engine optimization) for pet businesses in a future article and video. Stay tuned.
Customer persona
What the heck is a customer persona? Basically, it represents your customers or clients. Who is your target audience? What is their demographic? Who they are will affect how you attract them and engage them to give you business.
To create this persona you will need to look at your current and past customer or client base. Are they pet owners, other business owners, lawyers, engineers? What kind of information do they need? What will attract them to your products or services? Cute pictures, customer reviews, bargains? Some folks are looking for the lowest price while others are looking for premium service with a price to match. Who do you want to do business with? If your services are complicated or technical, the general public may not need to see too much information, just enough to get their attention and get them to contact you.
Closing the sale
Congratulations! You've created a website that attracts the customers or clients you want. Now it's time to close the sale. It is critical to make it easy for the user to contact you, make a purchase, or book services. There's nothing more frustrating than finding something you actually want on the internet then running into a wall when you want to buy it!
Include your contact information in a highly visible format. Do you prefer folks to call or email? Make that obvious in your "Contact Us" section.
Use a seamless shopping cart element for the sale of products. Giants in the industry like PayPal are easy to use and trusted by most consumers. If you use Amazon, eBay, or Etsy to sell, incorporate those links or widgets into your website. Many service businesses have specialized apps that make booking, payment, and other management options easy and secure. For pet sitting I use Time to Pet.
Follow up
Last but not least, be sure to follow up on the maintenance of your website. It's easy to get busy and forget about it, but things do change and you want to keep the information current. I recently checked my pet sitting website and saw a few things I needed to change.
You'll want to not only keep information up to date but keep the site looking fresh with different pictures, features, specials, etc. This will show users that this is an active site and they will be more likely to engage.
I wish you great success in your pet business!