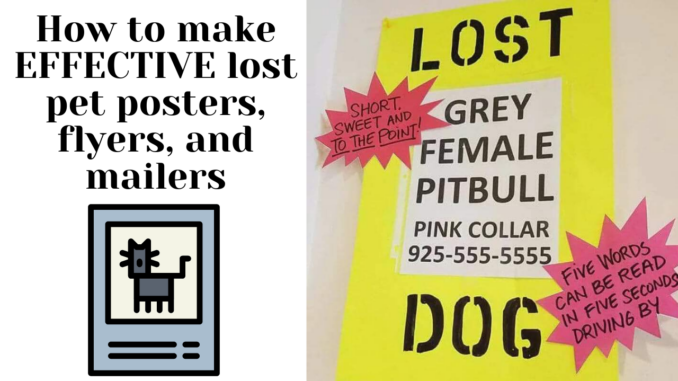 Posters, flyers, and mailers are great tools for helping you find your missing dog or cat. In this article and video you will learn the difference between these three tools, how to design them, and how to distribute them to maximize the chances of finding your lost pet.
Go to THIS PAGE for quick links to free lost dog and cat poster and flyer generators.
What's the difference?
Posters are for hanging up in public locations to bring awareness and generate leads from passers-by.
Flyers are for handing out when going door to door, canvassing the neighborhood, and speaking to folks at shelters, vets, and other businesses.
Mailers are to generate leads for pets who have been missing a longer time, and when you need to cover a larger area quickly.
Posters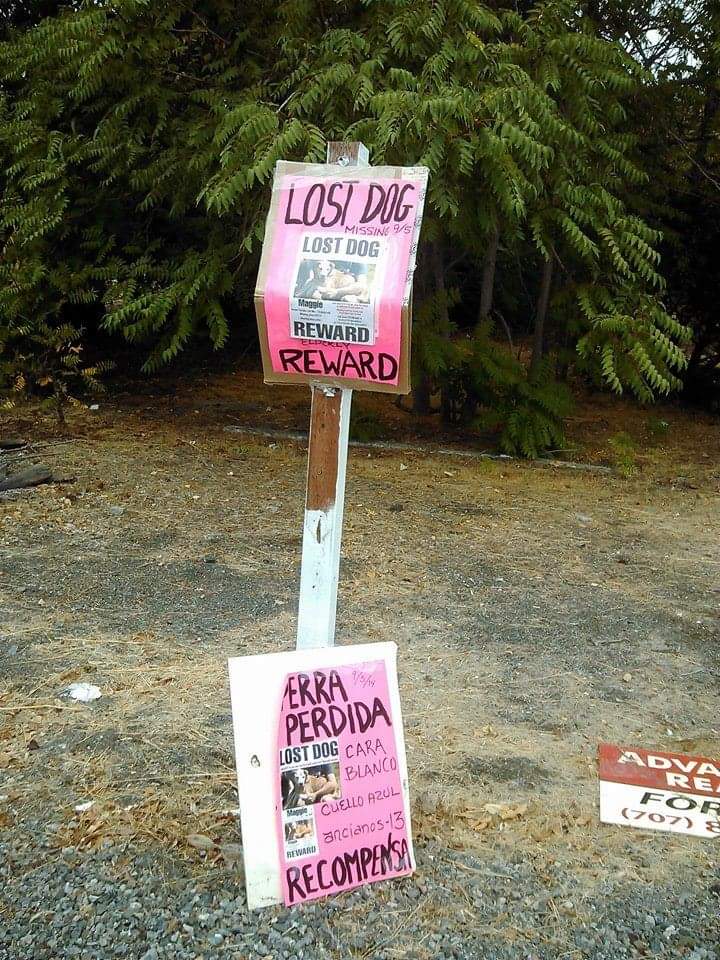 Posters should be big, bright, and noticeable. There should be no missing the poster or what it says, even from a moving vehicle. How many times have you driven past an 8×10 lost pet sign on a piece of white paper? Could you read what it said? Probably not.
Ideally, use highlighter-colored paper board in a large size. You can find this at an art store or on Amazon. The large size and bright color will attract attention.
Text
Use few words and blocky text. For example: LOST BLACK LAB, CAMO COLLAR, OAKMONT DR. LOST GREY STRIPED CAT, FLUFFY TAIL, SAN MATEO VILLAGE. Use only enough text to describe your lost pet without extraneous details. People will only see a poster for a few seconds and can't process all that information. You can write this text with an extra-thick marker or with stencils. If you are putting up a large number of posters, you can have the text printed by a print shop. Be sure to include a phone number where you can be reached via call or text 24/7.
Photo of your pet
Include a good, clear photo of your pet. Ideally the viewer can see the face and the colors. if you don't have a good printer or don't want to use up all your ink, many stores like Target and Walmart have printing services. You can submit your digital file and have it printed in any size you want. Protect the picture by putting it in a plastic sleeve turned upside-down.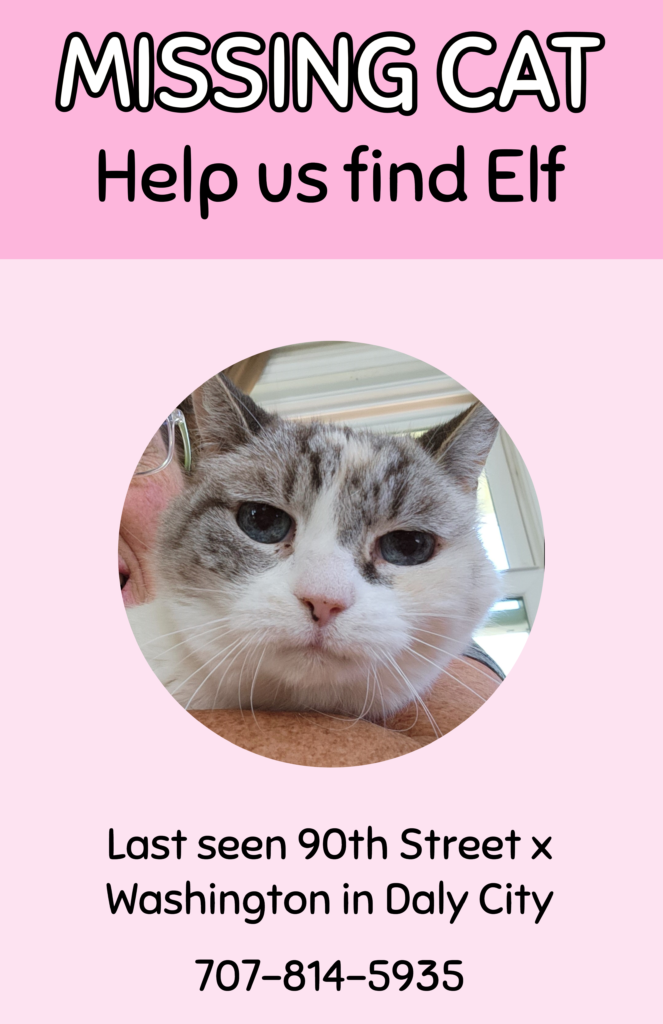 Ideal locations
Place your posters in locations where they are likely to be seen by a large number of people in and around the area where your pet went missing. Intersections, shopping centers, grocery stores, and gas stations are just some of the high-traffic places where you may place your posters.
Be aware of sign ordinances in your city, county, and home owner's association, and be sure to ask permission if you are posting on private property. You don't want to go through the time and expense of creating and hanging posters only to find them taken down the next day.
Note where you put up your posters and remove them after your pet is found. No one likes litter, and you may even be fined for leaving them up too long.
Flyers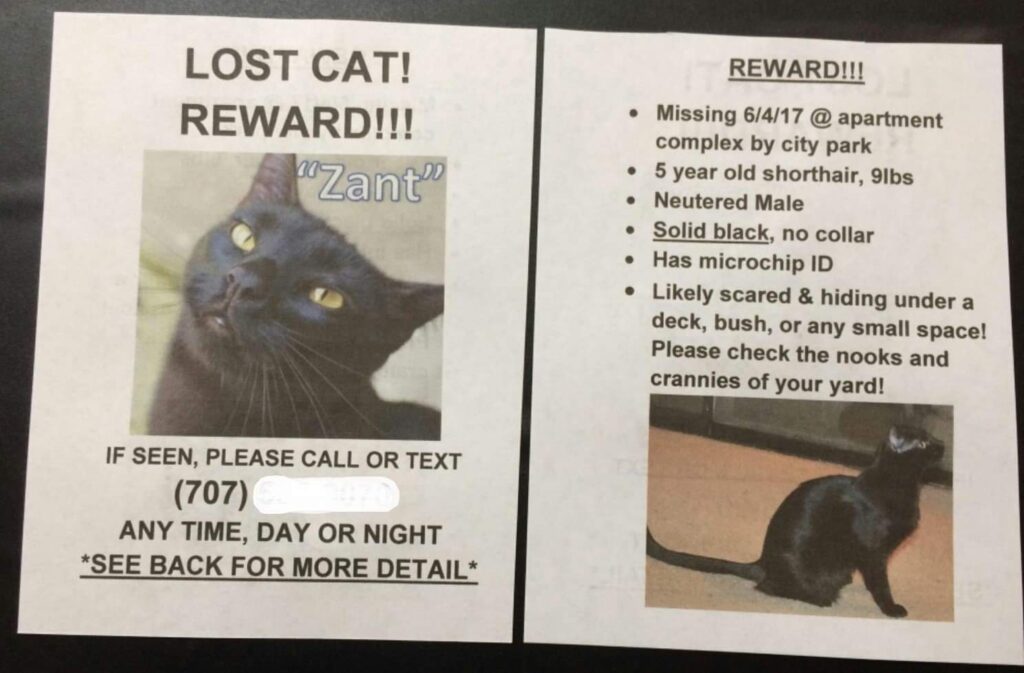 Flyers can include more detail than posters, as they will most often be read by someone who is holding it in their hand. Include the same info as on the poster: general description, location lost, and your contact info. These can be printed on regular size printer paper to be handed out or posted. If you want to make a large number of copies you can send the file to your local print shop or an online printing service. Here are links to three free and easy to use templates where you just fill in the blanks, save and print.
More details
You can give a more detailed description of your pet or the circumstances around how he went missing. Just keep it relevant to the search. I recommend including the text, "Do not chase! Call me immediately," or something to that effect. Folks who mean well may try to catch your pet if they see him, and this can backfire, scaring him into hiding or out into traffic. I have seen dogs hit by cars due to people chasing and trying to catch them.
Some people believe that writing "service dog" or "needs meds" will increase their chances of getting their dog back, but this has not proven to be true. Good sams will help regardless of the circumstances, and those with bad intentions don't care.
If your pet is microchipped, you can note that; however, do not include the chip number! Anyone can take the number and register it, then claim the pet belongs to them.
Photo
Include a good photo of your pet, as with the poster. Since you can make them smaller, you may even want to include two photos, like a front face and side body view. Seeing the detailed images up close will help a finder accurately identify your pet, should they see him.
Distribution
While conducting your physical search, carry a stack of flyers and hand them to anyone you speak with. That way they can call you later if they see your pet or hear anything. Give flyers to neighbors, passers-by, and business owners. Visit as many businesses in the area as you can, at least those whose management is receptive. Animal related businesses like pet supply shops, feed stores, and groomers are most likely to be helpful. Post on community boards at the library, senior center, and chamber of commerce.
Mailers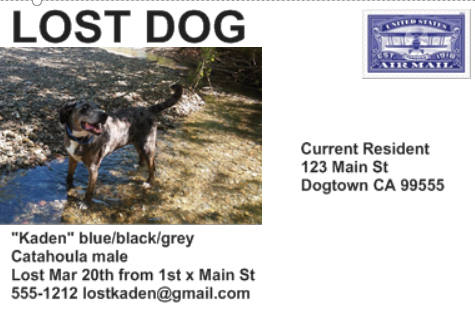 Mailers are a great tool to generate leads for a pet that has been missing for a longer time, or if your other search methods are not yielding any leads.
Have you ever received a card in the mail advertising a local business, offering a special on dental cleaning, furniture, or some other product or service? This was likely sent through Every Door Direct Mail, a service through the Post Office. This service saves the sender a lot of time as it goes to every house and/or business in any area without the need to generate a mailing list or to address each mail piece, and it costs less than first class mail.
People tend to hang on to these cards even if they don't need the product or service right away, which is why they are so popular. They are printed on card stock in bright colors, so easy to spot and reference.
Design
You can design these yourself through a website like Vistaprint, a local print shop, or a company that specifically deals in EDDM. You can include the same info as in the flyer: pet description, date/location missing, and your contact info. If it has been a long time, you may have set up a Facebook page or website specifically for your lost pet. Include that as well and encourage the recipient of the mail piece to join and contribute to the effort.
There are some specific design requirements, so if you don't utilize a service specializing in EDDM, pay close attention so your mailer is not rejected by the post office.
Distribution area
On the EDDM page of the USPS, you will see a map with each mail route depicted. Click on the area you want to cover and the route will be highlighted. You may have to choose more than one route to cover the area you want to receive the mailer. Once your mail piece has been printed, you will bring it to the post office to be delivered. Normally they are all delivered in one day, so you can cover a huge area in a fraction of the time you would spend knocking on doors and handing out flyers.
Rewards
A frequently asked question is should I offer a reward for the safe return of my lost pet? The answer is: it depends.
Good sams will try to help in any case, regardless of what is in it for them. That said, a monetary reward can incentivize anyone, good sam or not. What I have seen is that a moderate reward, from $100-$500, can generate more interest and leads which may actually be helpful. It has the added benefit of motivating someone who has found your pet and wants to keep or sell him, to instead return him to you.
A huge amount like $10,000+ will generate a ton of unhelpful leads, and anyone hoping for the cash reward will call with "information" real or otherwise. Such a reward will also attract the attention of scammers who have all kinds of shenanigans up their sleeves. If you want to offer a reward, keep it modest.
Well designed and distributed posters, flyers, and mailers along with other effective search techniques can help bring your lost pet back home quickly.