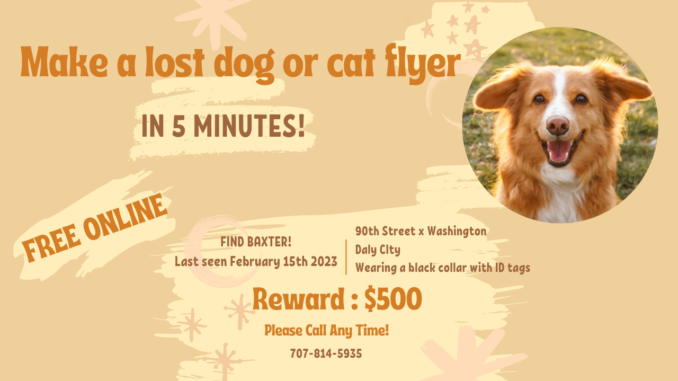 Posters and flyers are an important part of recovering a lost pet. In this article in the "in 5 minutes" series, I will share with you the best links to FREE templates for instantly customizing and printing missing dog or cat flyers and posters. In minutes you can be hanging posters, handing out flyers, and generating leads to find your missing dog or cat.
Flyer generators
With flyer generators, you simply fill in the blanks on the page like your pet's description, last known location, and your contact info. Upload a photo of your pet and you're ready to go. The generator will produce a flyer for you to print right away.
Amazingly, an exhaustive search only resulted in ONE flyer generator that actually works! This can be found on the website of 24 PetWatch.
24 PetWatch
24 PetWatch offers a suite of services for lost pets including a free flyer generator. It is quick and easy to use. The only glitch is with the photo. When I made my first flyer, it turned my photo sideways and squashed it. I edited the photo to a size that would fit in the template and then it worked. You can have a flyer like this one ready to print in minutes. Print it yourself at home or send the file to your local print shop for larger sizes or quantities.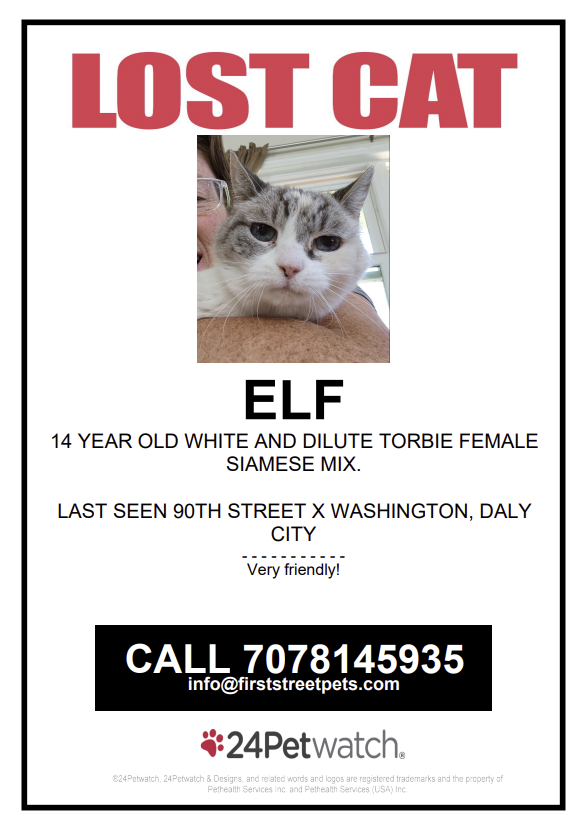 Templates
Lost pet flyer templates are mock-ups that you customize with your information. Just click on the sample text and change it to your pet's description, your contact info, etc. Change the sample photo for your pet's photo and you're ready to go. There are many templates available for free or for purchase. I found these two to be the best because they are user-friendly, quick and easy to use.
Canva
Canva is a popular graphic design site with thousands of photos, graphics, fonts, and templates. Here at First Street Pets we use Canva to design graphics for the blog and YouTube channel.
They offer a variety of eye-catching lost pet poster templates for dogs or cats like the one pictured below. Just choose the one you like and click on each element to customize. If you haven't used Canva before it may take a minute to figure out, but I find the interface to be very user-friendly. Once you're done designing you can download the poster and print it yourself at home or send the file to your local print shop for larger sizes or quantities.
While Canva does have a "Pro" version, most of their products are available for free. You do not have to have a paid membership to create lost pet flyers.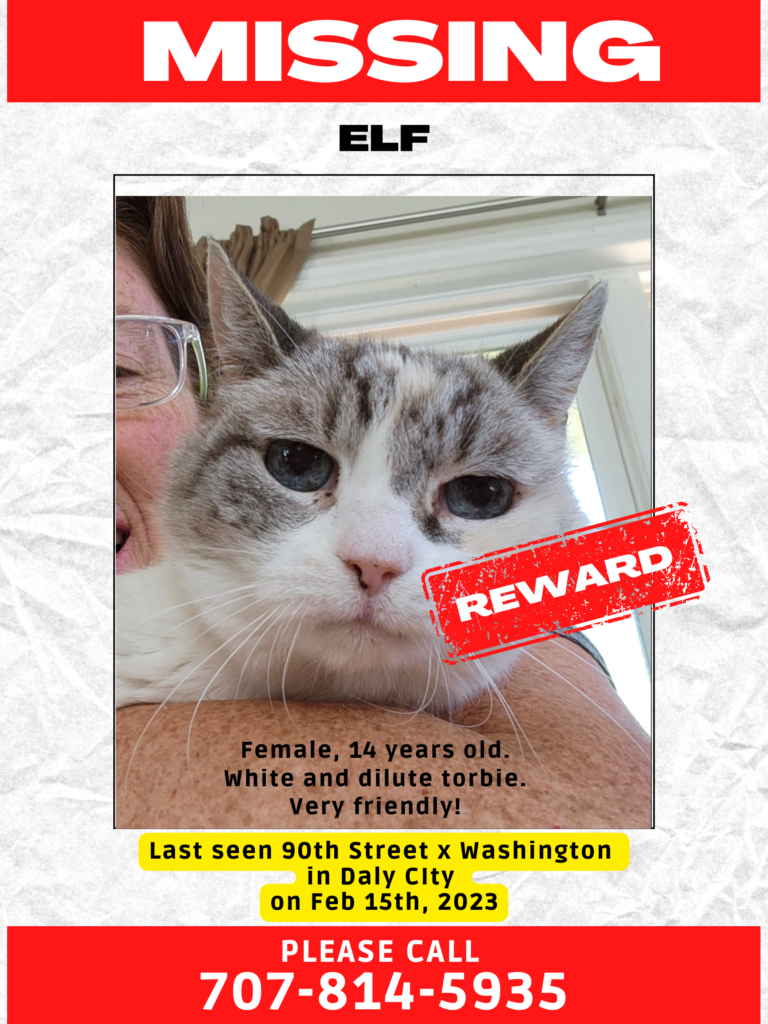 Adobe Express
Everyone knows about Adobe's PDF creator and reader and Photoshop. Adobe Express is a cool and totally free tool for creating many projects including lost pet posters and flyers. The interface is simple. I've never used Adobe Express before and I was able to design this flyer in a few minutes.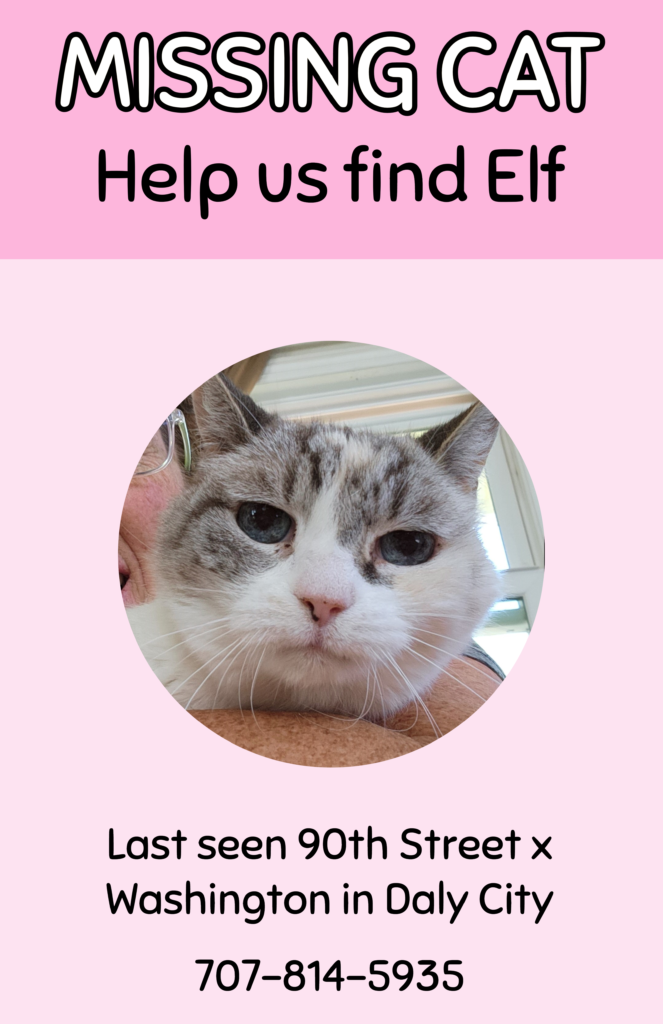 Adobe Express also has some cool templates in different shapes. These would be useful for printing post cards to mail or business card-size cards to hand out as you search door-to-door. Just scroll down on the lost pet poster template page to see the different sizes and shapes available for customization.
Thumbs Down
I don't want to make negative statements about named businesses, but I do feel compelled to share some of the difficulties I experienced in conducting research for this article. A Google search for "lost dog/cat poster/flyer" generated a long list of possibilities, many of which were futile. These are some of the problems I ran into with these sites.
The link says "free lost pet flyer" but when you go to the website you are taken down a click funnel for paid services like "search alerts" and Facebook ads. One one site I was able to design a flyer, but when I went to download it I was shown a long video advertising paid services. The text said I would be able to download after watching the video, but I wasn't. The video ended and there was no way to download or print.
Other sites aren't pushing paid services, but you are still taken down a path to make a lost report in their system with many steps that don't seem to lead to creating a flyer. National lost pet databases are next to useless, as most pets are found very close to home, so filling out such reports is a waste of time.
Some flyer generators are confusing. I spent 10 minutes figuring one out and finally finished my flyer design, only to find there is no apparent way to print or download it! I gave up.
Yet another required me to fill out a form to download my flyer, then gave me a bizarre error message saying "This email address appears to be of low quality." Huh?
Using the sites recommended here will help you avoid wasting time that you could be putting towards finding your lost pet.
I hope this information helps you to bring your missing pet home quickly! Be sure to check out my other articles and videos on lost pet recovery.