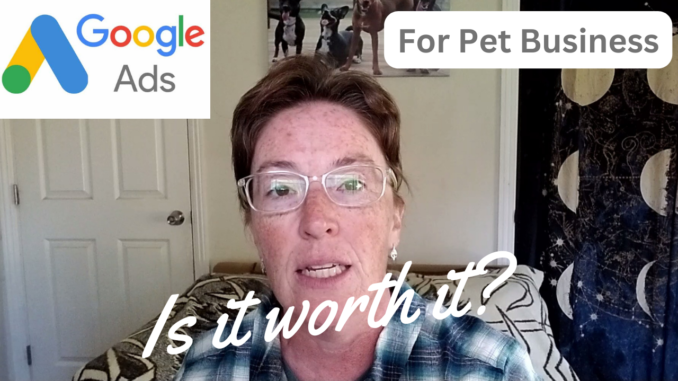 Are you a pet sitter, dog walker, dog groomer, dog trainer, or other pet professional? Learn why you might run a Google ad, how to set it up, and how to measure results. In this video I share my experience running an ad for my pet sitting business and how paid results compare to organic (free) Google search results.
Why Google Ads?
Tech giant Google provides a suite of products crucial to the success of any business. Their search engine, browser, and email are just a few of the tools that can help you if you know how to make the best use of them. Google Ads is a paid service that makes your website more visible to users in the search engine.
Here are some of the reasons why you may want to use Google Ads for your pet business:
Your business will rank higher than others in searches
Potential clients or customers will visit your website ahead of others
This engaged, these customers or clients will purchase your products or services
You make more money
How does it work?
With these goals in mind, you're ready to run a Google Ad. Like the browser and other tools, understanding how this process works is key to getting the results you want. Here are the basic steps for setting up your ad.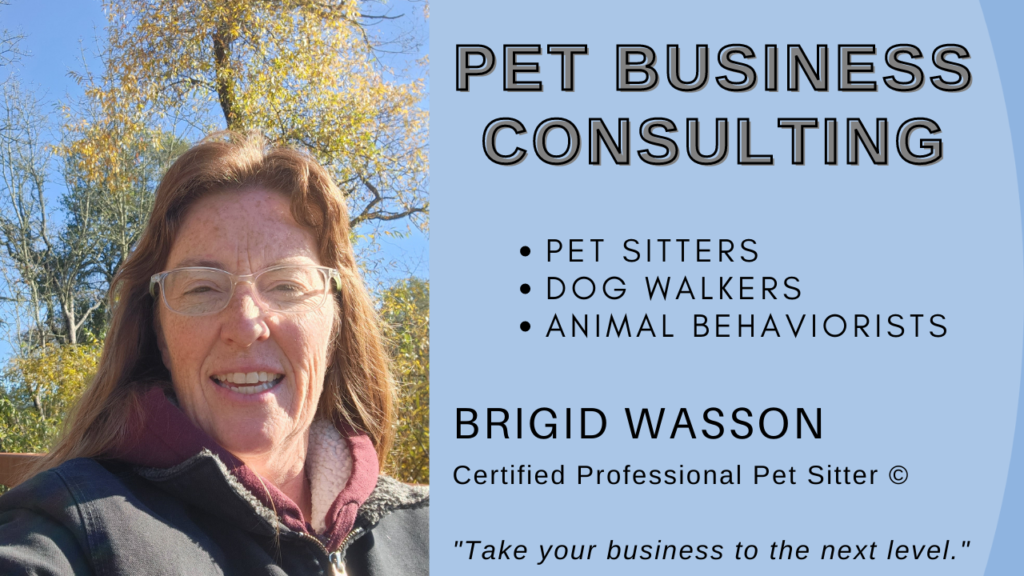 Set up your account
You will need to set up an account in Google Ads. You probably already have a Google account; if not, you can set one up.
Tracking code
You will be given a tracking code to insert into your website. This gives you a view into what is happening with your website: how many people visit it, how long they stay, how they found it, and many other factors. How you place this code in your website will depend on which designer you are using. WYSIWYG designers like GoDaddy will often have a text box labeled "tracking code" so placement is self evident. If you can't easily find this location in your site, consult your tech support.
Design your ad
Once your account is set up and you have your tracking code, you can start designing your ad. The primary elements to choose are:
Text
Keywords or phrases
Images
Location
Budget
Text
You'll want to choose text that quickly gets the viewer's attention so keep it short and compelling. Here is a good example of ad text for the search term "dog trainer near me." The business name is catchy, the subtitle "Bay Area Dog Trainers" clearly indicates the geographic area, and the description shows that trainers are certified and lists the kinds of services offered. This ad packs a lot of punch in a few words and a potential client looking for this kind of service would likely click on this website.

Here is a not-so-good example of ad text for the search term "best dog jackets for small dogs." While the title includes text about dog coats, the description includes information on other unrelated products like recipes and pet meds. A user searching "best dog jackets for small dogs" is likely in the market for that specific item and won't click on a more general link.
Keywords
You will be prompted to select keywords for your ad. Keywords are search terms commonly used to find a business like yours. Dog trainer, pet sitter, pet portrait, dog hiking gear, you get the idea. Think like a customer and select words relevant to your business. You can be as general or as specific as you like, but Google suggests not entering more than seven or so words or phrases. You can research keywords and phrases by doing a search yourself then scrolling down to the "People also ask" and "Related searches." This may give you some ideas you hadn't thought of.
You can game the system a bit by entering keywords relevant to your competitors. For example, dog kennel or dog boarding if you are primarily an in-home pet sitting business. You may waste some time with folks who don't want what you have to offer, but some may be open to whatever services are available.
Images
The ad creator will prompt you to upload one or more images for your ads. These may or may not appear in search results, depending on how to user is searching. Results will vary in general as well as on different devices like a phone, tablet, laptop, or desktop. Choose images that are eye-catching and speak to the audience you want to attract. These images will appear quite small, so keep that in mind. A photo with multiple people, pets, or other elements, or taken from far away, may just look like a mess in the thumbnail form.
Here's a good example of an ad image for the search term "custom pet portraits." It is simple with only two elements, the dog and the framed picture. It clearly shows the product available, and it is cute! The accompanying text is clear and also advertises a sale. The user will likely visit this website.

This image isn't so helpful for this ad for the search term "pet sitter San Francisco." I see what they are getting at with two dogs snoozing on a couch, but the format cuts off the dogs' heads and they are so small they can't be seen clearly anyway. A close-up of one dog on the couch would be much more eye-catching.

Location
The location(s) you select will depend on your type of business. If you are selling products your only restriction is where you can ship, so your area may be as broad as your entire country. If you are selling virtual products or services your customers could be anywhere. If you are a local business like a dog walker, you will only want to advertise in your immediate area to avoid wasting time and money soliciting clients you can't serve.
Budget
So how much does it cost to run a Google Ad? The sky's the limit, but the cool part is you only pay for clicks. If you design your ad well, each click you pay for has a good chance of giving you a return on your investment. This system differs significantly from traditional ads where you pay for placement for a given period of time regardless of results.
The basic "smart" version of Google Ads will offer you options for setting a daily budget. If you have a low budget or aren't sure if this kind of advertising is best for your business you can choose to spend only a few dollars per day. The suggested budgets will indicate how many potential users will see your ad. If you are a more advanced user you can drill down and customize your cost and preferred results in the full version rather than the "smart."
It seems logical that the more you spend, the more clicks you will get, and the more money you will make. That may be technically true, but in real life you are competing with huge corporations that will always have a bigger budget than you and your small business. Industry giants like Chewy, PetSmart, Rover, and Wag! spend millions of dollars a year on advertising. According to Media Radar, Rover spent over $100 million on advertising in 2022! So is it possible to stand out above these corporations without spending a million dollars? Surprisingly yes! More on that in the section on Analytics.
Conversion
The ad creator will ask you to set a conversion target. This is a page, other than the home page, that indicates a user is converting to a potential customer or client. On my website I chose the Services & Prices page because that indicates further interest. If someone looks at the home page then clicks away, they probably aren't interested in booking services.
What does it look like?
Now that you've chosen the parameters of your ad, how will it look to potential customers or clients? The ad creator will give you a preview of the ad on different devices like a phone, tablet, laptop, or desktop; however, everyone's search results look different. Here is a screenshot of the ad I ran as part of my research for this article and video.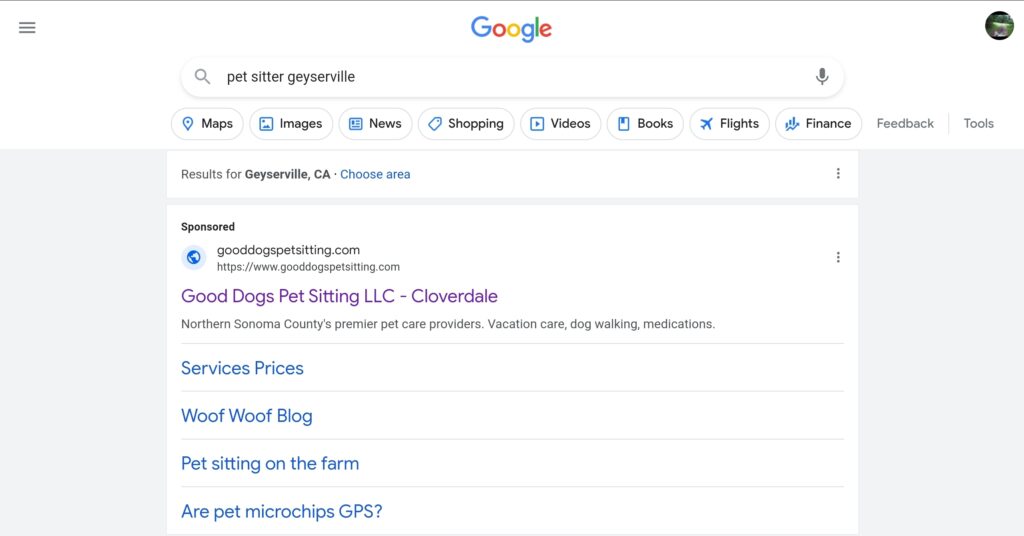 Once your ad is live you can do a search yourself to see how it looks. Just don't click on it or you will be charged!
Why did I run an ad?
I ran an ad for two reasons: to generate more business in a new city and to gather information for this article and video. I recently expanded my pet sitting and dog walking services into a neighboring city and changed the info on my website to reflect this. Search engines can take weeks to update info so I thought this might give me a jump start, and some new clients, for the upcoming holiday season (I ran the ad in November 2022). Determining exactly why you want to run an ad will help you better design and manage it to meet your goals.
Was it worth it?
Did the ad help me accomplish my goals and was it more effective than an organic (free) search? The results are in so let's see! I ran the ad for 20 days and compared the paid results with the organic results as shown on Google Analytics.
Paid results
I got 117 impressions and 8 clicks on my ad during the 20 day period. "Impressions" means that my ad came up in a user's search results. It was suggested to the user but they didn't necessarily click on it. Eight users clicked on my ad. I did get a lot of calls during this time and signed up several new clients, some of whom said they found me online, but I'm not sure if they were one of the eight people who clicked. They could have been from an organic search or followed a link from Facebook or another source.
I gamed the system by using "Rover" as one of my keywords and it worked! My ad was shown to two users who searched specifically for Rover as you can see in this screenshot of search queries.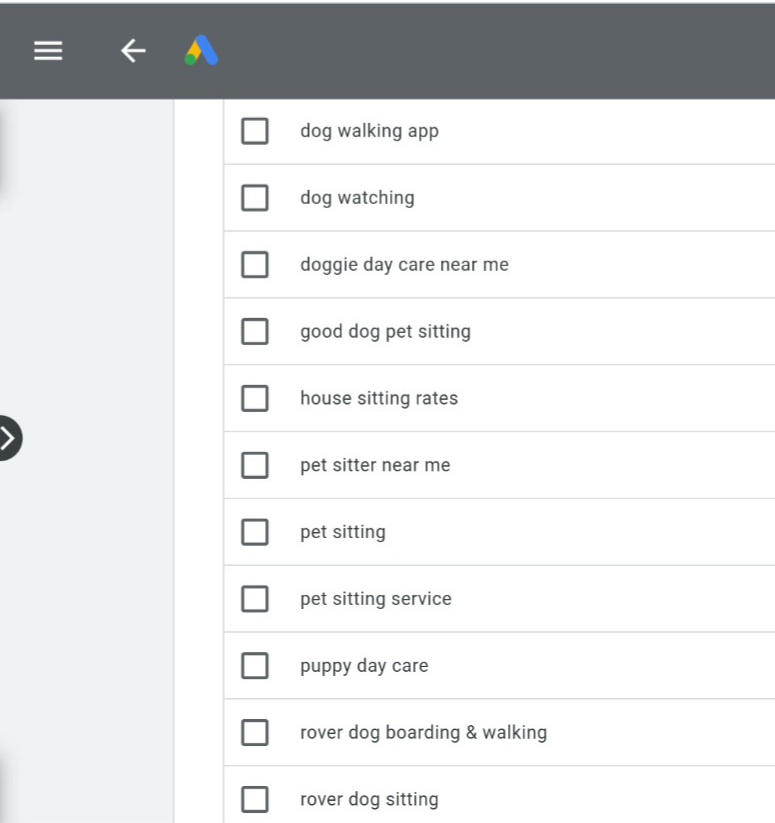 All users who clicked on my ad live in (or were searching from) my service area. This is because the ad was only displayed in those cities.
Organic results
I used Google Analytics to track free organic traffic to my website and compare these results to those from the paid ad. Don't know how to use Google Analytics? Check out this beginner's course from Analytics Academy.
During the same 20 days I got 105 organic clicks. 40 of these users are in my service area. The other 65 are not, but this doesn't mean they aren't potential clients. I live in wine country with a lot of tourist activity, so there is a demand for pet care while out of towners are visiting.
Conclusion
For my business, the paid results were underwhelming. I got a lot of impressions but few clicks. More potential clients found my site via organic search or by clicking a link on Facebook or another site.
I searched "pet sitter near me" to see my results and sometimes my organic listing appeared above the paid one. In some cases, my organic listing appeared above Rover and the other big corporations! It goes to show that you can never predict 100% how search results will look in Google or another search engine.
I'm pleased with the experiment because it gave me valuable information and I didn't spend too much money. My final bill for the ad was something like $22.
My conclusion is that optimizing your website for SEO will go a lot farther in generating business than paying for ads.