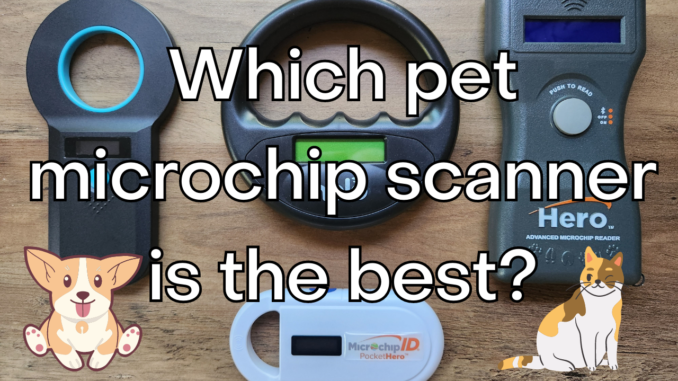 There are many microchip scanners available for purchase with prices varying from as low as $25 to as high as $625. With such variety and disparity in price, how do you know which one to choose?
Different scanners for different needs
The first important factor in selecting a pet microchip scanner is your individual needs. Are you a pet owner, a breeder, a rescuer, or a representative of a shelter or animal control department? Each of these individuals or agencies will have different budgets and specific uses for the scanner or scanners.
A pet owner will need a scanner that is inexpensive and able to scan the chips of their personal pets. They may want to keep inventory of their pets' chip numbers and make sure the registration is current and correct. They may on occasion help a friend or neighbor who needs a pet scanned for the same reasons.
A breeder will need a scanner only for their own animals. They may want to keep track of animals bred and sold and provide chip information to new owners so they can complete registration. Unless the operation is high volume they will only need one scanner of reasonable quality.
A rescuer will need one or more scanners both to scan their own animals placed for adoption and to scan stray animals if they assist in finding owners of lost pets or in TNR (trap, neuter, return) of community cats. Rescuers can fill a need in scanning found pets after hours when veterinarians and shelters are closed.
A shelter or animal control department will need a number of scanners of the highest quality able to read all chip types (more on that in a minute) and to withstand high volume use. They can also benefit from features like chip number memory and Bluetooth to send chip numbers to their kennel management software. They will want to take advantage of shelter discounts and bundles with other products like pharmaceuticals, software, and of course microchips.
Microchip frequencies
Without going into great detail, I will share with you that microchips come in different frequencies that are NOT able to be read by every scanner. Today's microchips are 15 digits and this is considered the standard. Older microchips had 10 digits and a different frequency. My oldest cats who were chipped in the early 2000's have 10 digit microchips from HomeAgain because that's what was used at the time. One company, AVID, makes a 9 digit microchip.
The problem is that all scanners do not read all of these chips, so you could be scanning a pet with a chip but it will not show up. This can lead to strays not being found by their owners and to double chipping, that is the shelter or new owner having a chip implanted when there already is one.
Hands on testing
I love to research but one can only learn so much from reading. I decided to purchase several scanners and test them in real life, and I'm glad I did! I was able to determine the difference between the expensive and inexpensive ones and how you can determine which one best meets your needs.
I tested four scanners for cost, effectiveness, and ease of use. Here they are in order from price low to high.
Mindpet is a scanner I chose randomly on Amazon. There are many inexpensive ones in this category available for $25-$55. My original theory when drafting this article was that cheap scanners don't work as well as costly ones. In the process of research I found that there is one significant difference, but it isn't quality or effectiveness.
This scanner costs $55 and comes with a charger cord. Pretty much all of the light duty scanners available today are rechargable with standard USB cords. Unlike the original scanners from the 90's that resembled satellite dishes, this one is small and lightweight.
There is only one button on the scanner. When you push it, it initiates scanning. A graphic of arrows moving to the side shows that it is actively scanning. If the pet has a 15-digit microchip, it will show in the display. This scanner only reads 15 digit chips, which are the current standard. However, if you are scanning older stray pets they might have a 10 digit chip that will not show up on this scanner.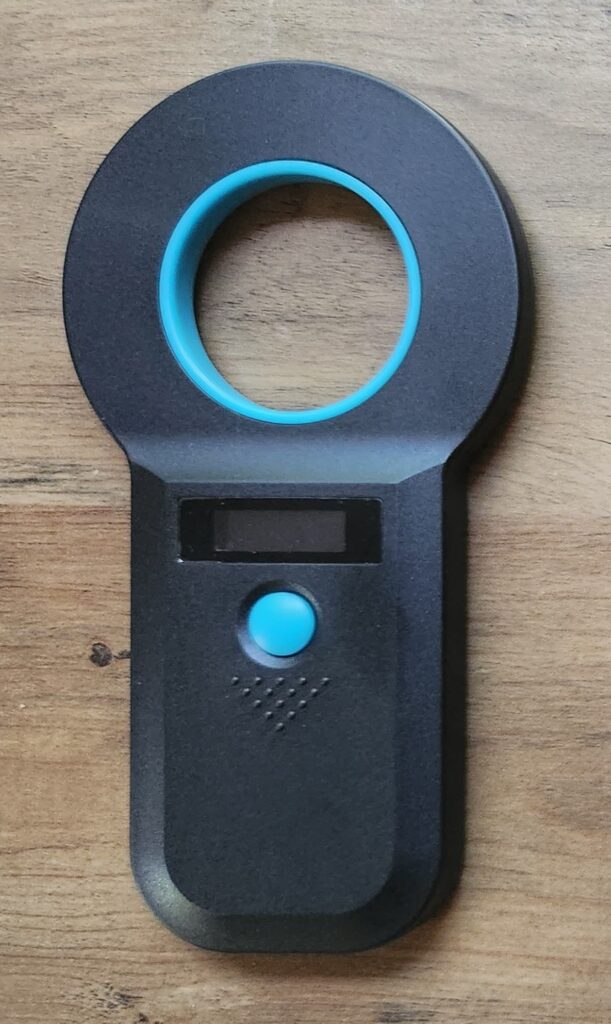 The Mindpet works fine for this singular function, but its other advertised functions simply don't work. It is supposed to remember over 100 microchip numbers and those numbers can be transferred to a computer or mobile device vis USB or Bluetooth. Try as I might, I could not get this to work. I connected it to my computer via USB and nothing happened. There are no instructions with the product and nothing popped up on my computer as it typically does when I plug in a new device. After 20 minutes of searching settings and folders I gave up.
Ironically, while testing the next scanner (Pocket Hero) I discovered another function that also works for Mindpet! The much-clearer instructions for Pocket Hero describe the method of transferring data as follows. Connect the scanner to the computer via USB cord. Please the cursor where you want the chip number to appear on the computer screen. Scan and viola! the number of the chip you just scanned appears on the screen.
Pocket Hero
Made by our friends at Microchip ID Systems, the Pocket Hero is a mini version of their professional level Hero scanner. It is made in America and backed by customer service reps you can get on the phone any time – a huge plus. Priced at $79 it is affordable for individuals and small rescue groups.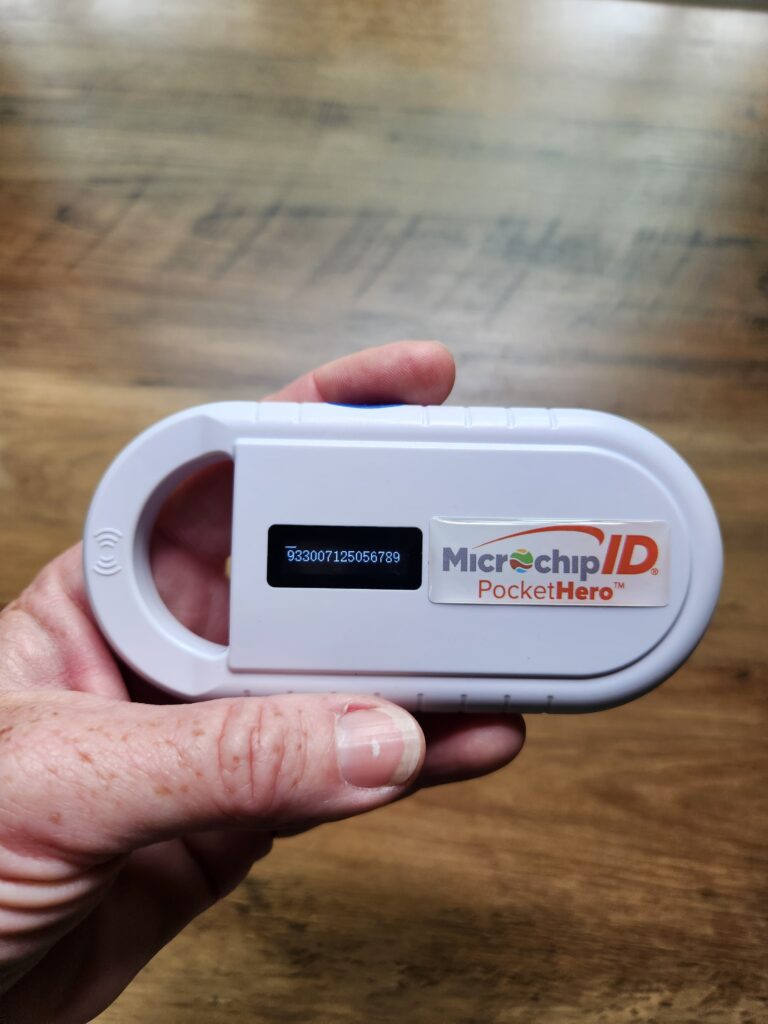 Words cannot describe how small this scanner is. It truly is "pocket" size and easy to carry in the field. Much easier to transport than my old professional scanner that I carry in a briefcase-like container.
The scanner comes with a carrying bag and a little fob with a test chip inside. This is super important to make sure your scanner is working. I've experienced too many times a scanner not reading a chip because the battery was low, even though it appeared to be working properly. Scanning your test chip before scanning animals will put your mind at ease.
The scanner has a cool feature of inserting the chip number into any location on your computer screen. Just attach the scanner with the USB cord, place the cursor where you want the chip number to appear, and scan. I can't tell you how we struggled back in the day at the shelter trying to write down the chip numbers before they disappeared from the screen. Some staff would take a picture of the number with their phone then write it down. All of this wasted time and led to inevitable mistakes. One of my own cats was registered with the wrong number for years. I only discovered it recently while testing one of my new scanners and was able to update his registration.
I wish this scanner had Bluetooth because that would make it super easy to use with a mobile device. It doesn't, but the larger Hero scanner does.
The Halo scanner is distinctive in its ergonomic circular shape. Unlike other scanners it also comes in a variety of colors. This can be helpful in keeping multiple units organized in a facility. For example, the green ones are for the medical room and the pink ones are for the front desk.
Priced around $99, the Halo is the least expensive scanner to read all frequencies of microchips. I tested it on test chips and on my pets and sure enough it reads both current standard 15 digit and older 10 digit chips. I was surprised to find that, although the manufacturer does not claim that this unit reads 9-digit chips, it actually did read an old AVID test chip I have in the office!
The scanner has only one button on the back of the unit. When you press it the display screen says "Scanning" then displays the chip number or the message "No Tag Found."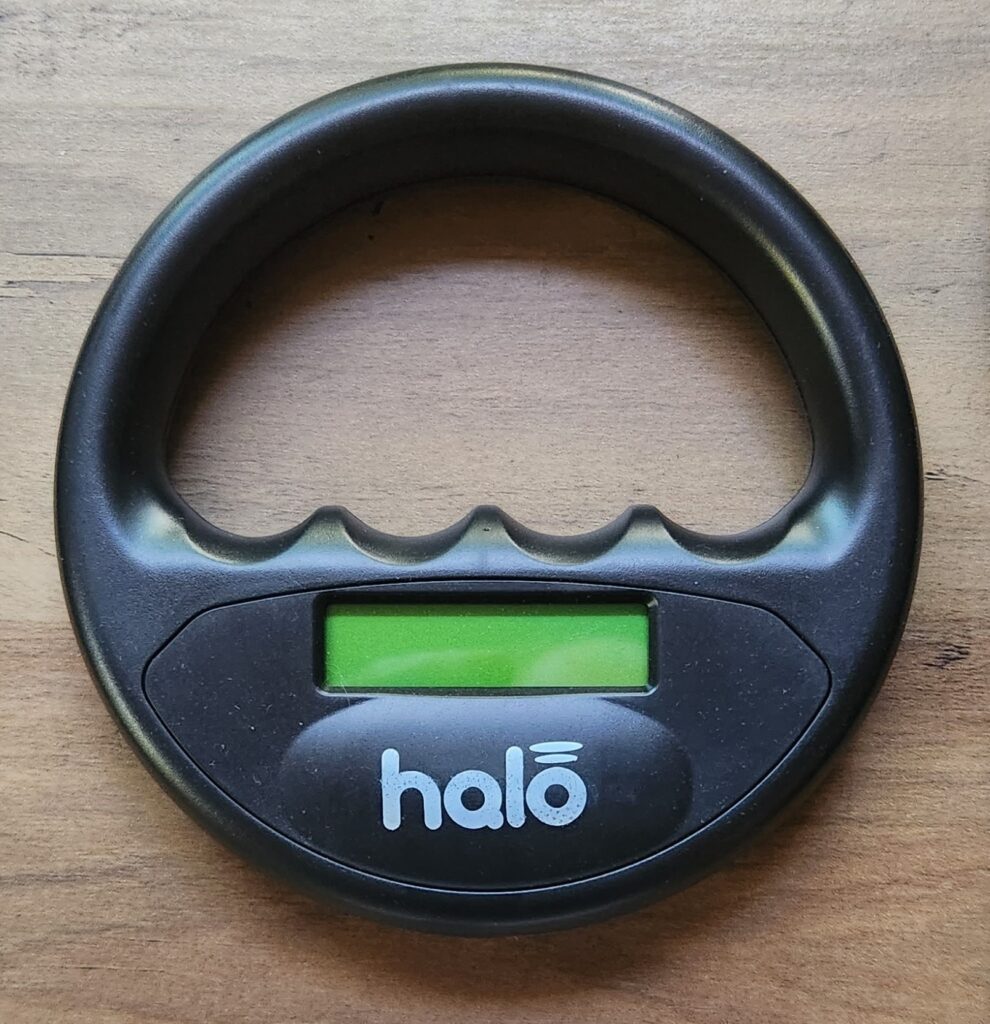 The Halo will save scanned microchip numbers but they can only be accessed via a software called Scanner Angel. This is a free download that is easy to set up on your Windows-based computer. It will not work on a Mac or Linux and I don't think it will work on a mobile device because I can't find an app in my Android app store.
Once you download and start up the software, you plug the scanner into the computer and a list of recently scanned numbers pops up. From there you can select a number and copy/paste it into your records. Unfortunately the unit won't scan while it is plugged in so you can't save numbers as you go.
Scanner Angel also maintains a database of lost and found pets but I'm not sure from where they are getting their information. There are countless sites online reporting lost and found pets, so many as to make them useless. There is no one clearinghouse site for lost and found pets. The best thing to do when you find a lost pet is to contact local authorities.
The software is not necessary to use the scanner like any other. Just charge it up, push the button, and away you go. You'll just have to write down the number or take a picture of the screen after scanning.
The Hero is the full-size and function version of — you guessed it – the Pocket Hero. Made by Microchip ID Systems, it is a professional level scanner. What that means is that it reads all pet microchips found in the United States and that it can hold up to heavy daily use in an animal shelter or veterinary hospital. It uses a 9-volt battery and is not rechargeable like the less expensive light duty scanners.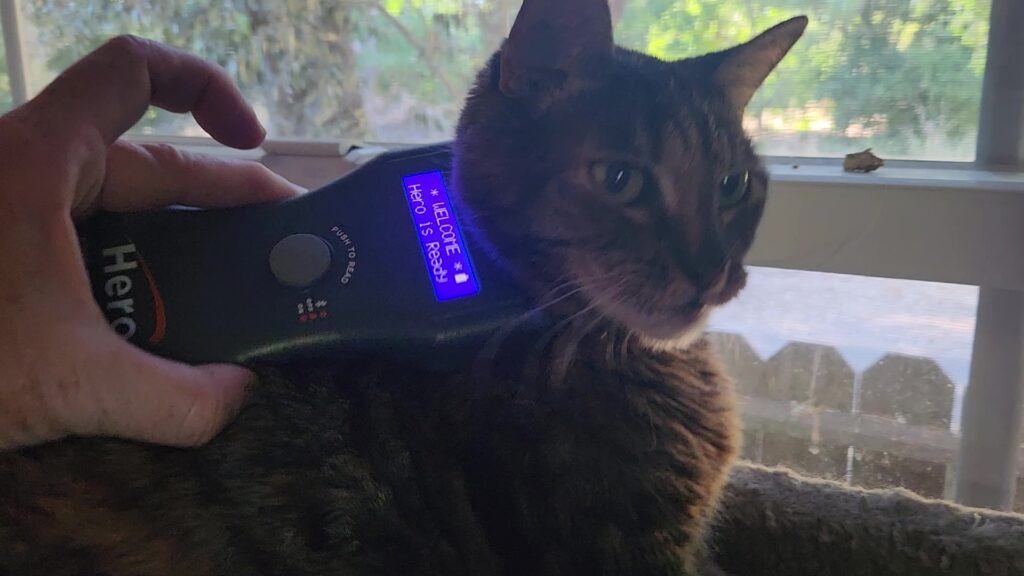 The Hero has both USB and Bluetooth connectivity which are gamechangers for both in-clinic and field use. In an animal shelter, for example, the scanner can be connected with a USB cord to the computer used in receiving. This is the room where stray dogs and cats are processed upon entering the shelter.
When staff scan the pet, if there is a microchip it will appear on the screen wherever the cursor is placed, typically in the microchip number field of the software used by the agency. From there the number can be searched in the various registries and, ideally, the owner can be contacted right away. In the field the scanner can be Bluetooth connected to a phone or tablet. When the pet is scanned by a pet detective, rescuer, or TNR (trap, neuter, return) individual the number can be saved in a document or placed directly into the search field of Pet Microchip Lookup to hopefully locate the owner.
Priced at $299, this scanner comes with a carrying case, battery, and test chip fob which is critical in making sure the battery has enough power. Most scanners will give a low battery alert, but this is only when it reaches a critical level. It is possible to miss a chip if the battery is low. The unit is surprisingly small and light. While it is bigger than the Pocket Hero, it is no bigger than my hand and weighs only a few ounces. The Hero has a large central button for scanning and a switch on the side which toggles between on, off, and Bluetooth mode.
I was able to quickly connect it to my laptop by putting it in Bluetooth mode and searching for nearby devices. For a minute I thought it wasn't working till I read the directions that say the name of the connected device is "CSR HID Keyboard." It doesn't say Hero or scanner. Like the other scanners, this works by inserting the microchip number wherever you place the cursor on your computer or mobile device screen. No app is needed for this function.
One thing I noticed right away is that you must keep the central button pushed down to scan. Some other scanners continue scanning when you take your finger off the button — not this one. I assume that is a battery-saving feature. When a chip is read it appears on the screen all in one line making it easier to read. If you don't press the button again, it will stay on the screen for 15 minutes! If you've ever struggled to write down a number before it disappears, you will appreciate this feature. I tested the scanner on all three kinds of microchips and, as advertised, it read them right away.
Which one is best?
The moment you've been waiting for … which microchip scanner is best? Like most other things in life, it depends.
Best overall
The Hero scanner is head and shoulders above the rest. It is heavy duty and has all the functions needed for personal or professional use. It reads all chips and has both USB and Bluetooth connectivity. It is small and lightweight but able to hold up to frequent use.
At $299 this scanner is the best deal in its class. Comparable scanners from Home Again, AKC, and Datamars cost from $400- $625.
Best for personal use
The Pocket Hero has the functions needed for use by a personal pet owner, breeder, or rescuer. It is literally pocket sized and easy to use. It only reads 15 digit chips, so if your pets are less than 10 years old or if you are only scanning pets that you have chipped yourself (not with AVID), this will do the trick.
At $79 it is affordable while maintaining quality and customer service. Microchip ID Systems is an American company and you can get someone live on the phone 24 hours a day.
UPDATE: unfortunately the Pocket Hero is no longer available on Amazon! This is a similar scanner that I have purchased and tested that I would recommend.
Runner up
The Halo is the only scanner I can find at this price point (around $99) that reads all three kinds of microchips. It does not have Bluetooth and the USB connectivity is clunky, requiring an app, but despite that it has value for folks helping lost pets. I keep one in my car and use it to scan found pets in my community. I keep it in the pocket behind my seat so it's there whenever I need it. I just write down the chip number or take a picture of it with my phone and go from there.
Buyer beware
Prices vary on Amazon so be sure to check that you are getting the current best deal and that you are getting the product you want. I was recently shopping for a Furminator pet brush and, clicking a link with a better price, ended up with a knock-off "Furblaster." Oops. It works, but it wasn't what I intended to buy.
Also be sure to buy items that can be returned if you are unsatisfied! One of the scanners I bought claimed to read both 15 and 10 digit chips. I was skeptical because it was cheap, and sure enough, it did not read 10 digit chips. I initiated a return and sent it back.
Thank you for all you do to help animals!