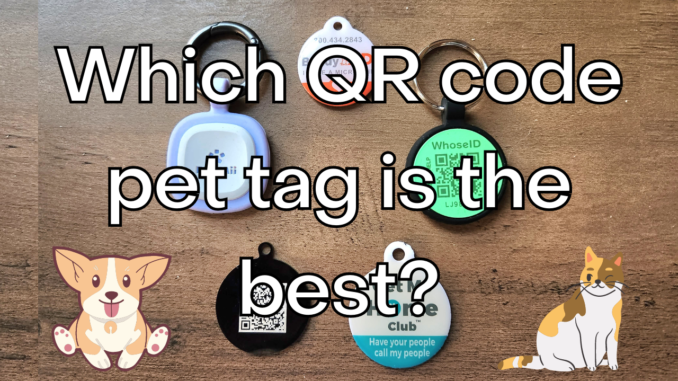 A search for QR code pet tags will yield hundreds of results. From name brand American tech company subscriptions to cheap Chinese products on Amazon, the dizzying array can confuse a potential buyer. What's the difference between these products? How well do they work, and is a pricier tag better than a cheap one? In short, which QR code pet tag is the best?
In this article we review five products:
Whose ID
Pawaii
My Lucky Tag
Pet Hub
Buddy Badge
I recently wrote an article and recorded a video about QR code tags, how they work, and if you should buy one. While the old school engraved tags with your phone number can work just fine, these tags offer an additional level of protection and information for both finder and owner of the lost pet. Understanding how they work and what they can offer you are key to deciding to use them.
After writing this article I decided to purchase several tags and activate them to see how they work in real time and what the differences are. You can view this process live in the video above.
While primarily designed for dogs, these tags can be used on cats or any other pet that wears a collar or harness. They come in a variety of materials, sizes, and shapes, so there's sure to be one that will work for you and your pet. When reviewing I looked at price, features, ease of use, and customer service. Let's dive in to the reviews!
This tag comes in a variety of colors, sizes, and shapes so you can customize the tag to your liking. It includes cute graphics on the non-QR code side of the tag and the text "Scan to help if I am lost" next to the code. This can be a helpful hint if a finder doesn't know what it is. The tag is made out of silicone so no more annoying jingling tag sound! The silicone is also easy to clean. It may get dirty worn by an active dog, but just wipe it with a damp cloth and it's as good as new.
Whose ID also offers metal tags if you prefer that style and a silicone tag that threads through the collar for greater security – no o-ring.
Depending on which one you choose this tag costs from $6.99 – $19.99 and includes a pet dashboard. This is a dynamic webpage where you can store your pet's important information like your name, address, and phone number, and an emergency contact if you can't be reached. You can also upload pictures and write any notes for the finder like medical information or your veterinarian's phone number.
Activation is quick and easy and does not require an app. You simply scan the QR code of your new tag and follow the prompts on screen to register it to yourself and your pet. At any time you can log in and update the information at no charge. There is no subscription fee – the tag purchase includes lifetime registration with GPS! More on that in a minute.
When your pet is found, the finder can simply scan the QR code and they are immediately taken to a screen with your contact info. They can touch the phone icon to call you or, if they are near your home, simply walk up and knock on your door.
They can also touch the pin icon to activate location which is a cool feature of QR code tags. This will send the GPS coordinates to the owner for ease of meeting with the finder. This may not seem like a big deal close to home, but if you are traveling in an unfamiliar area it can speed up the reunion process. When the icon is touched a screen pops up prompting the finder to enter a phone number and message which will be emailed to the owner along with the dynamic map.
Like Whose ID, the Pawaii tag is made of silicone so does not make noise. It only comes in one shape but has a variety of colors so you can match your pet's collar or harness. The text PAWAII and a little pawprint are on the non-QR code side of the tag. "Please help me get home" is printed on the QR code side. One thing I really like about the Pawaii tag is the sturdy o-ring. Many tags come with flimsy rings that could easily bend open if caught on something. They are also hard to open and can break your fingernail. Not the o-ring on the Pawaii tag.
This tag costs $9.99 and includes a pet dashboard. No app is required for activation. You simply enter your contact information and your pet's information and upload a photo.
When a finder scans the tag they are taken to a screen which immediately displays your address and phone number. They can touch "Call My Owner" to contact you or walk to your home.
The GPS feature on this tag is a little clunky. When the finder touches "Send Email" it looks like nothing happens. The first time I tried this feature I thought it wasn't working so I touched it several times. Later when I checked my email I see that what it does is send a generic message saying your pet is found and an address – no map.
This tag comes in both metal and silicone versions in a variety of colors. It features a number of choices for text and graphics on the non-QR code side of the tag including phrases like "Help me I'm lost," and "Service dog." What I really like about this tag is the ability to customize so it becomes a combo QR code and traditional tag. On the non-QR code side you can add any text like your phone number and you can even add a photo of your pet!
This tag costs $14.95 and like the others includes the pet dashboard and GPS. One cool additional feature about this tag is the ability to flag your pet as lost. If this is done, when the finder scans the tag they will get a message saying this pet is lost, please contact me and allow GPS tracking so we can be reunited. Be aware that on this tag and all the others, the GPS is activated by the finder's mobile phone. The tag itself does not contain GPS – it is just a tag with a QR code printed on it.
A strange thing has been happening since I registered this tag. From time to time I get found alerts from crazy places like Brazil (I'm in California). I don't know if someone's pet has been found and the QR code is similar to mine or if it's just a glitch in the system. The tag is right here on my desk – I didn't actually use it, just activated it for the video. UPDATE: It dawns on me that folks may be scanning the QR code on the screen of the video to see how it works.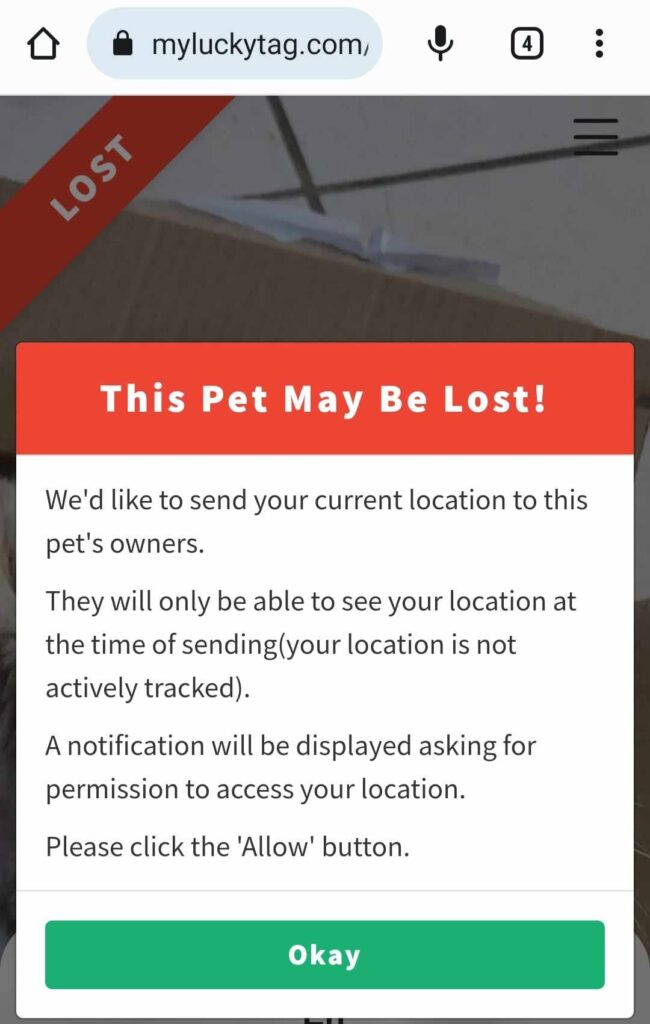 Pet Hub was one of the first companies to offer a QR code pet ID tag in 2010. The tag only comes in one variety, a basic metal circle called the "Get Me Home Club" tag. There is a possibility of customizing but only in bulk orders such as those for a nonprofit organization or business.
Like the other tags, Pet Hub offers a basic registration and dashboard with owner and pet information. They have helpful content on their website about searching for a lost pet. They do have a 24 hour phone helpline which is a big plus not offered by all the tag companies. Price for the tag with registration is $14.95 but "premium" services like GPS and lost pet alerts require a subscription at an additional cost. I understand that subscriptions are the primary funding for services like the live helpline, and that that initial $14.95 for the life of a pet doesn't cover much. However, with other companies offering comparable services for no subscription, this isn't my first recommendation.
Since registering my Pet Hub tag I have received a lot of spam mail advertising various services. Some of their information is helpful but I am receiving so much mail from the company that I will probably unsubscribe.
Microchip ID Systems is one of my favorite companies. They offer a variety of lost pet prevention and recovery services including microchips in both standard and mini "nano" sizes and registries for dogs, cats, and even horses. They recently added a QR code ID tag to their line of products. Called the Buddy Badge, the tag only comes in one style and has the code on one side and the company's 800 number on the other. It includes the text "I have a microchip" as this QR registry is the only one I'm aware of that links both tag and microchip information together.
Registration is quick like all the other tags. I recently got a new puppy of a desirable breed and I didn't want her to be lost or stolen. I registered her microchip and QR tag in the car on the way home with my mobile phone!
The tag costs $19.99 and includes registration. They offer a package deal called the Buddy System which includes a microchip and tag with lifetime registration for $32.99. No app is required – when a finder scans the tag they are taken to your dashboard with all your contact info. Like the other tags, the finder can share their location using GPS for a faster reunion.
Microchip ID Systems has a 24 hour helpline which is a bonus. I have called them several times while creating articles and videos and they have always been helpful and friendly.
Which is the best?
For customer service and comprehensive services, Microchip ID Systems/Buddy Badge is the clear winner. The only downside is that they only have one kind of tag which isn't great looking. Maybe in the future they will offer a wider variety with different colors and designs to match your dog and collar.
For cheap and easy, Whose ID is a good choice. This tag comes in many styles and colors and can be in your mailbox in a day or two from Amazon. It is uncomplicated to use and does the job of keeping your pet safe.
Whichever tag you choose, be sure to read all about how it works and which services are offered for what price. Is there a fee to register and if so is it one-time or a subscription? You don't want to be surprised by a monthly or yearly fee if that's not what you thought you signed up for.