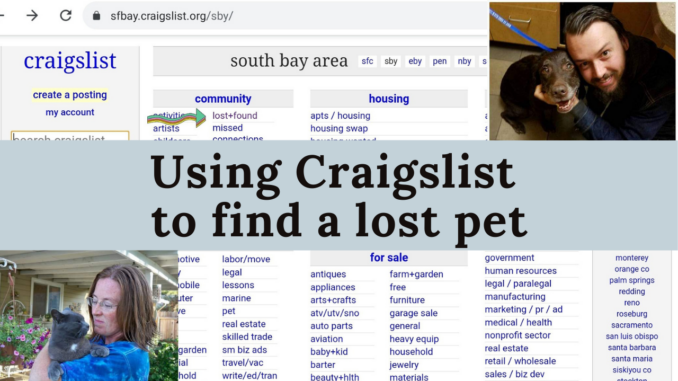 The internet can be a great resource for finding a lost dog or cat, but it must be used in a focused manner in order to be effective rather than a waste of your time and energy. Many people have had success in finding their lost dog or cat by searching Craigslist posts and by creating their own posts.
A local resource
One of the benefits of Craigslist is that is is local. As discussed in Using Technology to find a lost pet, local websites are the most effective for this purpose. It does no good to spread the message of your lost pet to everyone around the country and even in other countries when you need to be getting that message out within a short distance of your home. When using Craigslist for your region, start with the general area and narrow down. For example, SF Bay Area -> South Bay. Now that's still a pretty big area. A cat missing in San Jose will probably not be seen in Gilroy. Don't worry, you can narrow that down when searching posts and when creating your own posts.
Searching posts
The first thing you can do on Craigslist is to search existing posts. Good Sams and some shelters and rescues will post pictures and descriptions of found pets. You can start with the Lost + Found which is under Community.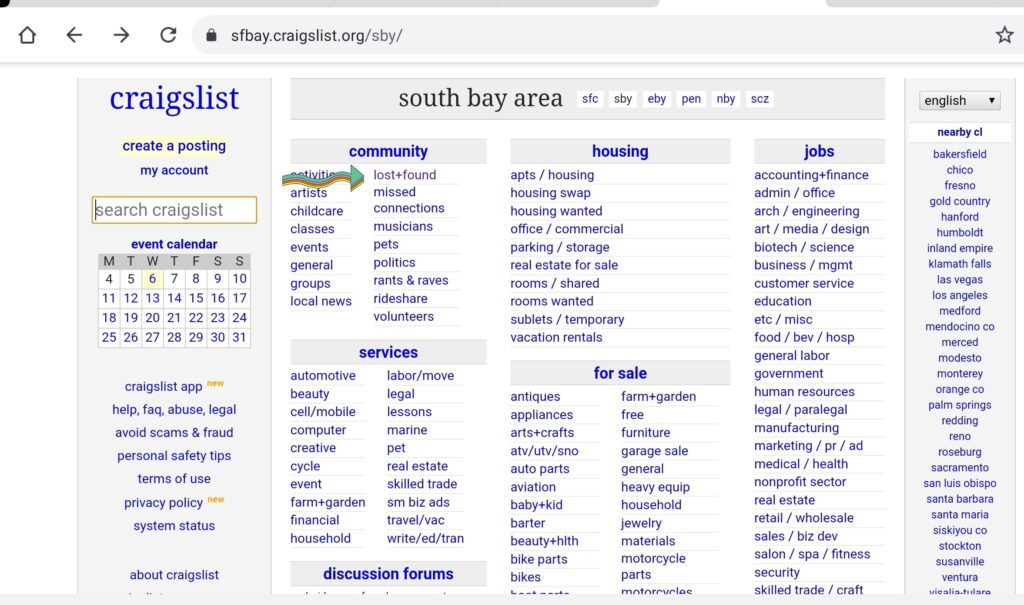 From there you can scroll through all the posts or you can narrow your search. I would suggest starting with a search word like cat or dog and seeing what comes up. If this narrows your results enough, go with that.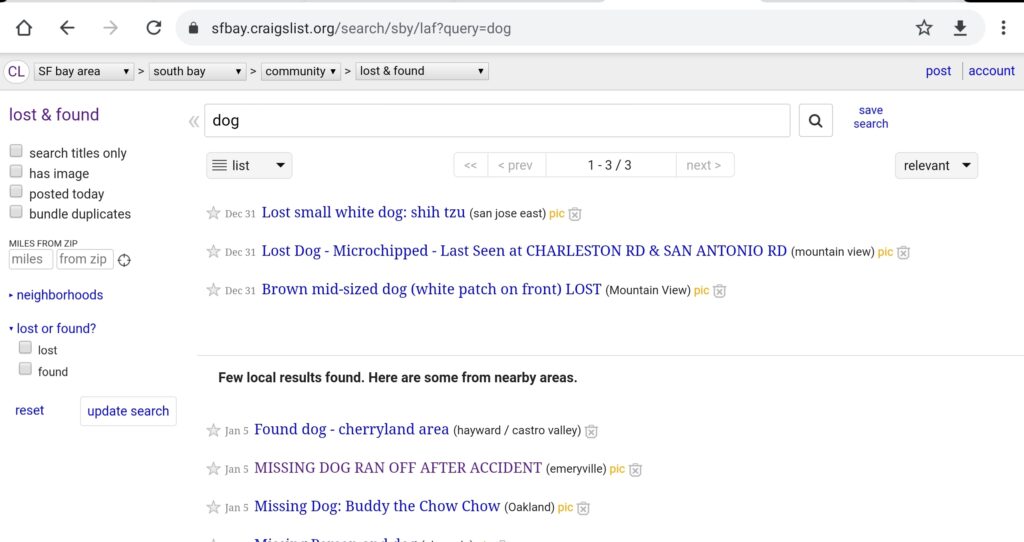 You can also narrow your search by area. In the column on the left you can choose a certain number of miles from your zip code, or you can select an area from a menu. Here I've selected San Jose East.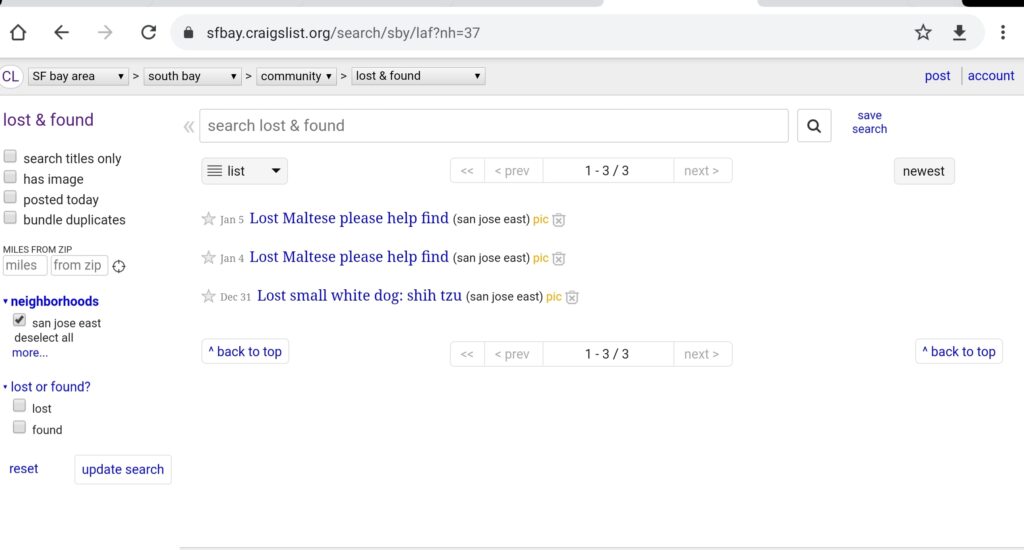 Some not so good folks will try to "rehome" or sell found or stolen pets. This is why, when I help the owners of missing pets, I always advise them to check not just the Lost + Found section but also the Pets section, also under Community. You can narrow your search in the same way you did for Lost + Found.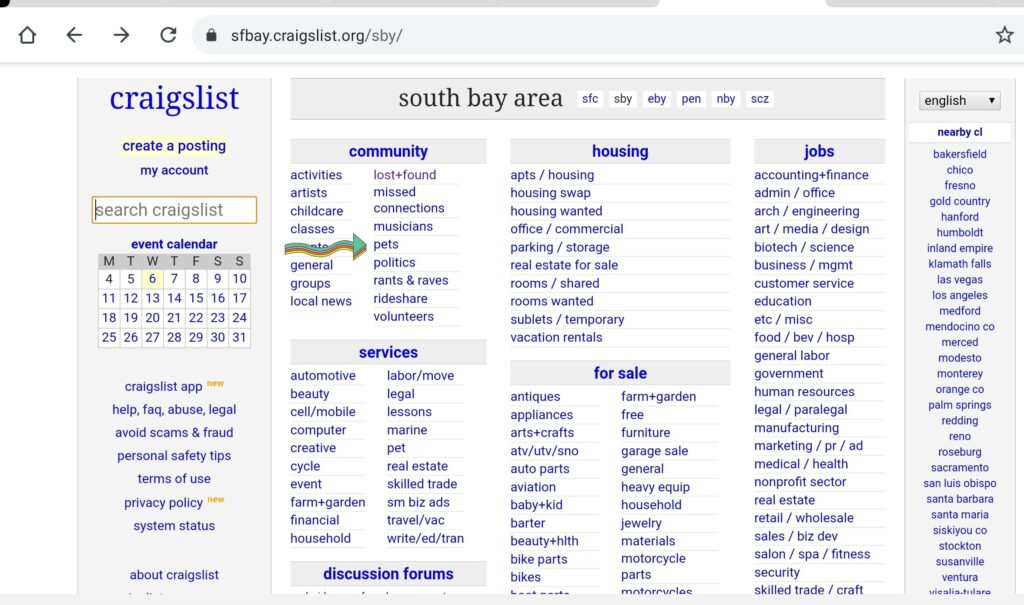 I found my pet on Craigslist! Now what?
You found your missing pet. Wonderful! Now, proceed with caution.
Lost + Found
If you found your pet posted under Lost + Found by a legitimate animal shelter or rescue, this is ideal. They will be the most likely to be honest with you and to follow the law in returning your pet to your custody. Contact them and inform them that the pet they listed belongs to you. Be prepared to show some proof of ownership and, in the case of a shelter, to pay a fee.
If an individual has your pet, they should not ask for money unless it is to compensate for veterinary expenses. They have the right to do this if your pet was found injured and they paid for care out of their own pocket. If they are indeed a good Sam, they will be happy to find the owner of the lost pet and will return him or her to you without a fuss. If you decide to give a reward, that's up to you.
Pets
If you found your pet posted under Pets, this can be more tricky. It is unfortunately not uncommon, especially in the Wild West of Craigslist, for unscrupulous folks to sell dogs that they found or outright stole. As discussed in Abandoned or lost? Rethinking stray dogs, many people believe that dogs or cats they find have been abandoned. Because of this belief, they will focus their efforts on "rescuing" and "rehoming" rather than trying to find the rightful owner. There are a few approaches you can take if you see your pet for sale on Craigslist. Before doing anything, screenshot the post and save any contact info for the poster. If the person senses trouble, they will likely delete their post.
In many cases, the rightful owner will contact the poster and express interest in buying the dog. I'm not saying this is right or wrong, but it does have the benefit of keeping the person on the line. If the person still has the pet, great. Now you can plan how to get them back. The man in the following news clip stayed cool with the Craiglist poster then contacted police who arranged a sting. In this case he was able to get his dogs back.
Some people decide to just pay the "rehoming" fee and cut their losses, if they can afford it. They may not want to involve law enforcement, or their local law enforcement may not want to get involved, telling them it is a civil matter. The goal is to get your pet safely back home, so you may have to go out of your comfort zone to make that happen.
You may want to come out and say this is your pet and the finder needs to return it. Unfortunately, this often ends badly, with the finder insisting the pet belongs to them or was abandoned. If you persist, you may find yourself blocked from contacting the finder and the post may be deleted, leaving you with no way to recover your pet.
Creating posts
Making your own lost pet posts on Craigslist may generate leads, but it can also generate a lot of noise.
I suggest posting in both Lost + Found and Pets. Start by going to each section and clicking POST in the upper right hand corner. Follow the directions for creating and posting. If you don't have an account, you will be prompted to set one up. It is free.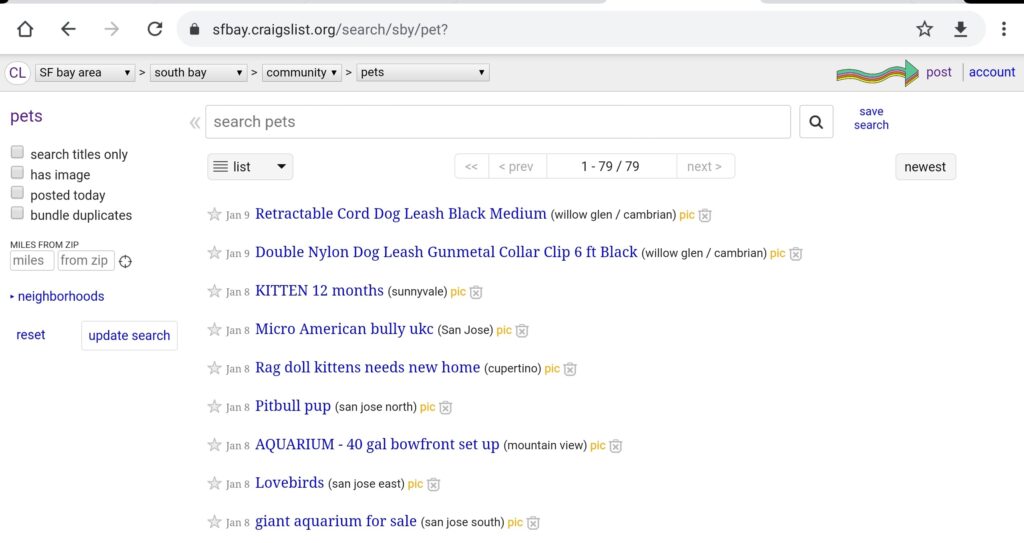 A few cautions. First, don't give out all the information. Give enough to prompt a lead, but not so much that a scammer can do a convincing job of saying they have your pet. Here's an example.
Lost black Lab mix. Neutered male. Lost on 11/22/20 near Bernal Plaza San Jose. Microchipped.
This gives enough info, but not every detail. Do not add extraneous details like "service dog" or "needs meds." Some people think this will increase their chances of getting a call, but there is no evidence to suggest this is true. Do not include the microchip number! A finder with bad intentions can easily register the number to themself then claim ownership.
Include at least one good photo showing the face and the colors. If your dog is an unusual breed, make the description simple. Instead of Catahoula, you can say large grey/white/black spotted dog.
Start by posting in your immediate area then fan out if you don't get any leads.
Caveats
While Craigslist can and does help some people recover their missing pets, is does have its flaws. Read on to avoid problems and make the most of this tool.
Post visibility
Craigslist is a really basic site with a scrolling feed of text. Unlike Facebook and other platforms, it does not show pictures in the feed, so all you have is text to grab the viewer's attention. They must click on the post to see details and photos.
Since Craigslist is free to use, there is a high volume of posts. Because of this, your post will quickly move out of sight. You will need to repost and/or renew your original post to keep it in view.
Scammers
While Craigslist is known as a great free tool for many purposes, it is also known for its more nefarious users who stalk, con, and scam the unsuspecting. These unscrupulous folks rent out houses they don't own, offer jobs that don't exist, and pay for items with fake cashier's checks. They prey on desperate owners of lost pets, offering them false hope in exchange for money. If I could give one piece of advice to owners to avoid being conned it would be this: ALWAYS ask for proof that a "finder" has your pet. Everyone today has a phone that takes pictures. Ask for a photo of your pet texted to you. If they can't do this, then they are just making up a story.
The most common scams involve a "finder" calling or, more often, texting the owner to say they have your pet. Next, they ask for money, sometimes with a (false) story about needing to pay for transport or some other thing. They will ask for a wire transfer, gift card, or other kind of payment that cannot be tracked and for which you have no recourse.
If the owner balks, the "finder" may threaten to harm the pet or abandon it alongside the road. One man I talked with a few years ago said such a person threatened to kill his Yorkie if he did not produce the money! I assured him that, without any proof, this person did not have his dog and was only trying to extort him.
Sadly, many owners pay the money because they are so desperate. Even if the story seems fishy, they don't want to miss the opportunity should this really be their pet. Now they are disappointed and have wasted money that could have been put towards the recovery effort or a reward for a legitimate finder.
Finding your lost dog or cat
Craigslist is just one tool for finding a lost dog or cat. A comprehensive search involves physically searching, checking animal shelters, talking to neighbors, posting signs, and utilizing other web platforms.
Once you have your dog or cat safely back home, take steps to prevent them from going missing again. If they are not microchipped, have that done right away. If they are chipped, make sure it is currently and correctly registered. This will give a fast track home and can provide proof of ownership in a dispute.